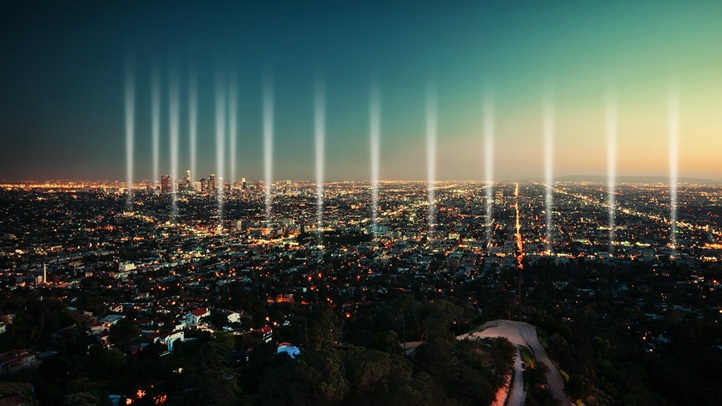 Encountering a powerful beam of light or massive installation that glows isn't all that unusual in Southern California.
We're searchlight central, of course, with all of our many movie premieres, and floodlights light up our streets while those movies are filmed. Add to that our artworks, like LACMA's Urban Light and LAX's iconic, hue-changing pylons, and Angelenos are often treated to an after-sunset show of sparkly proportions.
But Friday, March 13 will be rather different in the light-up-the-night-sky annals, for a few reasons, a principal one being the length of the light: ASICS, the title sponsor for the 2015 ASICS Los Angeles Marathon, will mark each mile of the Stadium to Sea course via "124 spotlights, totaling over 7.5 million lumens" or the "equivalent of 29,100 light bulbs."
The Scene
What to do, where to go and what to see
Yep, that's mighty bright all right. To admire all of that ephemeral illumination, ASICS suggests that "high vantage points around the city" will be the way to go if you want a look-see at the lights, which'll run from Dodger Stadium to Santa Monica.
Thank goodness we have a hill or two 'round these parts, and a few skyscrapers as well.
The 7.5 million lumens get lumening around 8:40 p.m. on March 13, and everything wraps at 10:15 p.m. (If you've been thinking of doing drinks at an up, up, up spot like Yamashiro, March 13 could be your lucky night for a window-pretty show.)
As for the people below creating the sky magic? Some 85 people will be behind the curtain, with 26 stake bed trucks dotting the marathon course. The total number of course-dotting beams? Twenty seven in all.
True, the marathon is not the next morning -- it runs on Sunday, March 15 -- but if you're running, you'll want to get to bed just after the March 13 show flicks the off switch, yes? Good eating, good sleep.
And "the largest known marathon course light activation ever," per the people putting it on. That sounds like a very SoCal way to kick off the big marathon weekend.
image: an ASICS rendering
Copyright FREEL - NBC Local Media