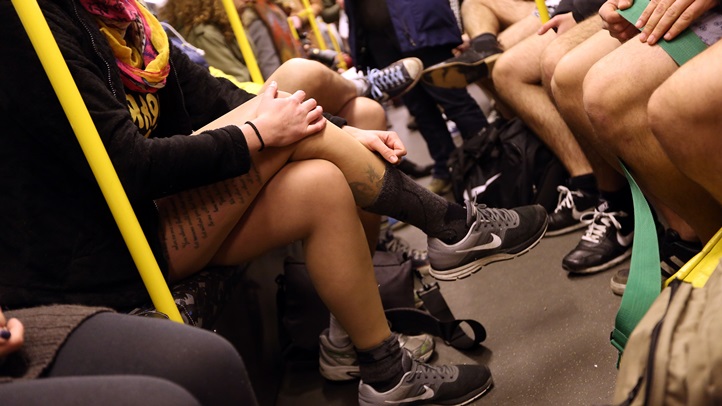 What were the chances, after a run of brisk days that only hit a high of 60-something, with a notable run of chilly afternoons, some flirting with the 50s, still to come, that No Pants Subway Ride would align with the one warm-ish winter day?
That's exactly what's in store for local knee-showing participants on Sunday, Jan. 8, a day that will actually see a high temperature in the mid-70s.
If you've heard rumor of this, er, cheeky event, one that got its bare-legged beginnings back in New York City over a decade and a half back, you might have believed it to be a summer thing, the kind of event where wearing your swim trunks out in public might be, well, comfy for an hour or two.
The Scene
What to do, where to go and what to see
Au contraire. It takes place in wintertime, in locations around the world, including places far frostier than Southern California.
Helsinki, Vancouver, Zurich? They're all on the roster.
A roster that traces its origins back to Improv Everywhere, and all of the impishness and high-jinks-ery that improv, as a rule, delights in bestowing wherever it alights.
And while it is indeed billed as the No Pants Subway Ride as a general name, here in Los Angeles it is the No Pants Metro Ride, given that we're all be-Metro'd 'round these particular parts.
The 9th outing'll take place during the early afternoon hours of Jan. 8, just in case you happen to be on a train and see the traveling shin-revealing spectacle.
Details about joining up? They're here. Long shirts, roomy sweaters, and appropriate bottom-half wear, and such? Photos from previous years may help guide you.
Like other semi-surreal worldwide happenings, from the autumntime "Thriller" dance day ("Thrill the World") to International Pillow Fight Day, No Pants Subway Day is built on brevity, a sense of the absurd, and "positive pranks," in the words of the day's founder.
Copyright FREEL - NBC Local Media