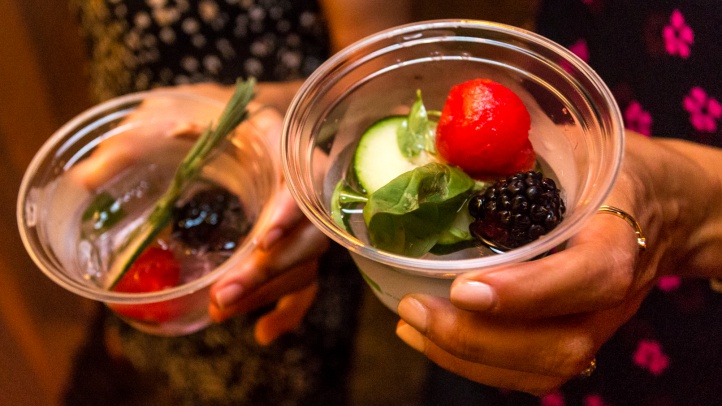 What to Know
Aug. 31 through Sept. 2
Paramount on Melrose
$115-$165
So how can you visit the famous back lot at Paramount Pictures?
Short answers: Be a movie star. Be on the crew of a studio film. Be on a special tour. Or be at The Taste, the annual late-summer sup-around from the LA Times.
Of course, there's a chance you might fulfill all four goals at some point in your life, but the fulfillable goal coming up shortly is the one involve good grub from a host of Southern California chefs.
The Scene
What to do, where to go and what to see
It's The Taste, which will pop up at Paramount's fabled backlot over the Friday, Saturday, and Sunday of Labor Day Weekend 2018. (Think evenings, not daytimes, for this "taste"ful to-do.)
First things first: Be 21, or older than 21, before showing up at the gate. Second things second (but also important): You'll need a ticket for this mega nosh-about, and those run from $115-$165.
Third things third? Parking is free if you go with the VIP access level, oh yeah, and is located on the Paramount lot, so that's cool. Choosing a standard ticket? Parking is $15.
Also way cool? The major chefs striding up to the demo stage. Bradley Ray of NoMad will cook with Jenn Harris, Trudy's BBQ will do a let's-make-yum-food demo, and Minh Phan will cook alongside Evan Kleinman.
When not learning stove techniques and spicing suggestions, you'll likely be eating, but also will likely be having a difficult time deciding where to go next, for over 100 restaurants will show up with small, walk-here-and-there, bite-sized goodies for you to savor.
And here's the fourth thing fourth, although this will certainly be at the forefront of every mind there: "Your ticket is all-inclusive and is good for unlimited food, beer, wine & spirits tastings, plus all stage activities."
Above everything, and in the hearts of those attending?
That the memory of food writer and thinker and visionary Jonathan Gold will permeate much of the party, so expect to see tender tributes to the great man at the major cuisine scene.
Copyright FREEL - NBC Local Media