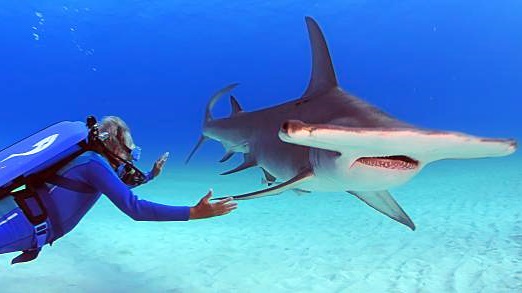 Stand at the doorway of any cinema screening a film in 3D and you'll likely be handed an important accessory: a pair of glasses, the kind that allow the work do its multi-dimensional, eye-entrancing, you're-inside-the-story dance.
And while such glasses will be available at the California Science Center's IMAX for the just-opened "Jean-Michel Cousteau's Secret Ocean 3D," you may be surprised that you won't also be given flippers, a wet suit, and a snorkel.
Okay, true, you won't actually need those particular accoutrements to take a totally dry seat in the theater, but you might feel the currents wash over you as you swim alongside the ocean-championing adventurer in this new go-beneath-the-waves experience.
The Scene
What to do, where to go and what to see
The film, which took three years to film overall, doesn't stick to one area of the world or a single sea; rather, it goes deep into the world's waters with stop-offs in "vibrant marine environments from the Bahamas to Fiji," taking a closer look at some 30 species along the way.
Shimmy closer to a colorful snail, and a flowy, flower-like anemone, and a giant clam, as you traverse the sandy bottom of the ocean sans flippers, mask, or stretch, waterproof suit.
And while the movie shows in 3D, the technology used in the making-of goes one, or rather two, better: ultra-HD 5K, which includes "slow motion, macro..." and "motion control," infuses each image with more you-are-there-ness.
Need a wonderful, wonder-filled ocean trip, but one that is about getting to know its residents (rather than hanging out on the beach)? Your flippers — rather, your glasses — await at the California Science Center.
Copyright FREEL - NBC Local Media