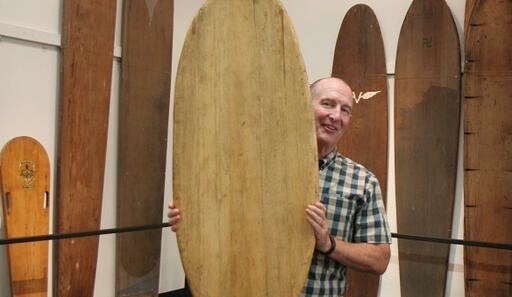 The spirit of surfing may be deeply chilled and extravagantly happy at its heart, but that doesn't lessen its gravitas or deflate its important story in any sense. Surfing, after all, is both cultural and recreational cornerstone of the human story, and definitely the human story as it has played out near large bodies of water.
The Surfing Heritage and Cultural Center in San Clemente keeps thoughtful tabs on the tales of surfing, and the characters who've brought the calling the life. And the artifacts, too, beautiful boards that could spin a few yarns about big waves and wicked wipe-outs.
The Scene
What to do, where to go and what to see
A quintet of surfboards will be surfing east, over a whole lot of land, but they don't need to ride a crest to do it: The artifacts will be shipped to The Smithsonian for display at two programs and a much-anticipated August event: The Surfing Heritage and Cultural Center National Luau.
A June 17 announcement at the Orange County-based center revealed that five boards will make the journey, including "one shaped by Duke Kahanamoku." The 125th anniversary of the legendary surfing figure's birth will be celebrated at The National Museum of the American Indian, one of the two programs featuring the artifacts.
The National Museum of American History will be the other location looking at the history of surfing, the film "The Endless Summer," and the daring characters who headed out onto open water, with bravado and pluck. The "cultural impact" of the 1966 film is a centerpiece to the Smithsonian-meets-surfing summer.
The National Luau rounds it all out, dramatically, like a wave rider's big and daring finish just before hitting the sand, over several days in August. Eager to join? Point your board this way for tickets.
If you can't hang ten for our nation's capital, The Surfing Heritage and Cultural Center is open to visitors and a fine 'n funky way to discover more about the ancient communion of humankind and the salty vastness.
Copyright FREEL - NBC Local Media