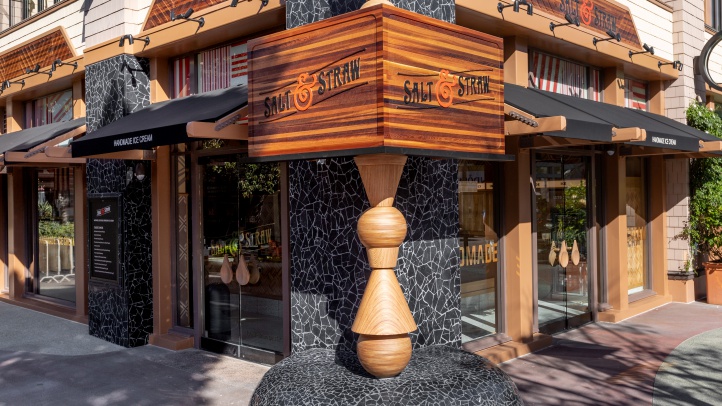 What to Know
Anaheim
Downtown Disney District
Look for seasonal flavors like Candied Pumpkin Potion
"M, I, C..." is how a famous song about a famous mouse goes, but you may sometimes want to sing "M, ice creeeeeam..."
For a person can't help but have ice cream on the brain while paying a visit to The Happiest Place on Earth.
After all, both Disneyland Park and Disney California Adventure are well-known for lollies and cupcakes and chocolate-covered Mickey ears and hundreds of other treats that are perfect for noshing while waiting in a ride queue.
The Scene
What to do, where to go and what to see
Of course, Downtown Disney District, the stretch of shopping and entertainment choices next to the theme parks, now has its own creamy claim to make in the Anaheim arena of ice-cold goodies.
Look to the brand-new Salt & Straw scoop shop, which debuted just ahead of mid-October 2018 in the district, for further flavorful proof.
The Portland-started sweet-maker has become known for its artisanal, interesting-of-flavor, quirky-of-name ice creams, and the Downtown Disney outpost is already continuing that whimsical tradition.
For seasonal flavors like The Great Candycopia and Candied Pumpkin Potion are on the fall 2018 menu, as are more traditional offerings.
Those offerings often come with backstories, and relationships with local honey or lavender purveyors, is the way with this quality ice creamery, which also has shops in the Arts District in LA, in San Diego, and in San Francisco, too.
But the one at Downtown Disney? It's the first Orange County location for Salt & Straw, and given its proximity to the parks, it will bustle with both locals and visitors looking for a luxe lick or two.
Portland's Osmose Design is behind the "modern-day mercantile" appearance of the dessert destination, and while the shop isn't fully Disney-esque, it serves as a natty neighbor to the parks.
It's that slightly nostalgic but airy-of-space vibe that people expect when calling upon the area for a meal, bowling, a spin on Space Mountain, and, as of mid-October, one of the yummiest, fancy-pants-iest ice cream scoops around.
Copyright FREEL - NBC Local Media