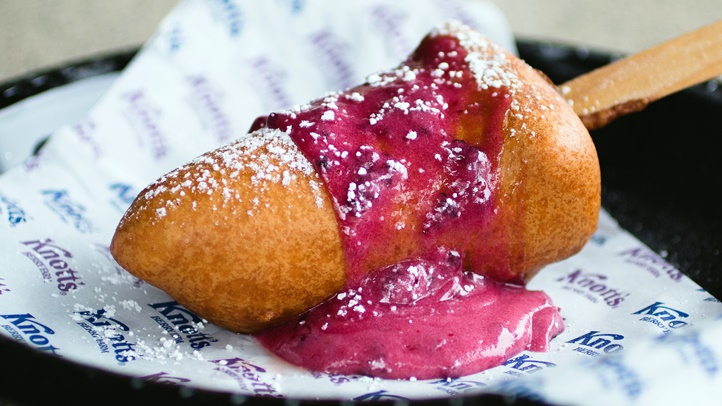 What to Know
Knott's Boysenberry Festival
March 16 through April 8, 2018
Knott's Berry Farm in Buena Park
Ever had a phone-wielding pal describe a fascinating photo they're looking at? You've likely demanded to see the snapshot yourself, to determine if your friend's florid description lives up to the hype.
Such is the case with a particular cuisine that tends to be spectacularly purple, and wonderfully gooey, and often jammy, and as fruit-forward as fruity foodstuffs come.
We speak of boysenberry-based eats, the kind that are served at Knott's Berry Farm in Buena Park during the much-ballyhoo'd Knott's Boysenberry Festival each spring.
The Scene
What to do, where to go and what to see
It's ballyhoo'd for good reason: There are over 75 different boysenberry-topped, boysenberry-stuffed, boysenberry-drizzled edibles served during the three-week event, and a bunch of them come from the savory side of the menu.
Which means this: You'll want to peruse the photos, now, pronto, ASAP, of all the new foods coming up for the 2018 festival, which boysenberries-up the famous theme park from March 16 through April 8.
Alas... The photos are coming, but you can still see the eats from 2017, and, yep, many of those, from flautas to fun sticks to pizza, are returning for another gastronomic go-around in 2018.
As for the new 2018 boysenberry offerings? Which we've taken so very long to get to, only to build the boysen-anticipation?
Boysen buffs, best get ready for...
Boysenberry quesadillas, with both boysenberry salsa and boysenberry sour cream.
Boysenberry pierogies, which will rock the boysenberry sour cream as well as onions and bacon.
Boysenberry boba tea! The exclamation point felt right to us, in the moment.
Boysenberry coconut macaroons. Sweet.
Boysenberry hummus, oh goodness.
Boysenberry elote, which sounds like a concoction created at the intersection of boysenberry bliss and corn corner.
And several others, yep.
If you're a Knott's regular, you know that boysenberry treats, eats, and libations, like boysenberry beer, are available all year long at the park, but the winter-to-spring Boysenberry Festival is about a plethora of other plates featuring the fruit-iconic favorite.
Photographs of the new goodies are coming, you bet, as mentioned. It's a promise.
Tales of the stuff you ate during the festival, too, if you go, are also in the near future.
And the memories of devouring boysenberry elote, followed by a swig of boysenberry boba tea, will keep your personality positively purple throughout the remainder of the year, as memories of eating good things tend to do.
Well, only boysenberry-based memories can lend a boysenberry hue to the spirit, which makes this time of year, Knott's Boysenberry Festival time, purple perfection.
Copyright FREEL - NBC Local Media