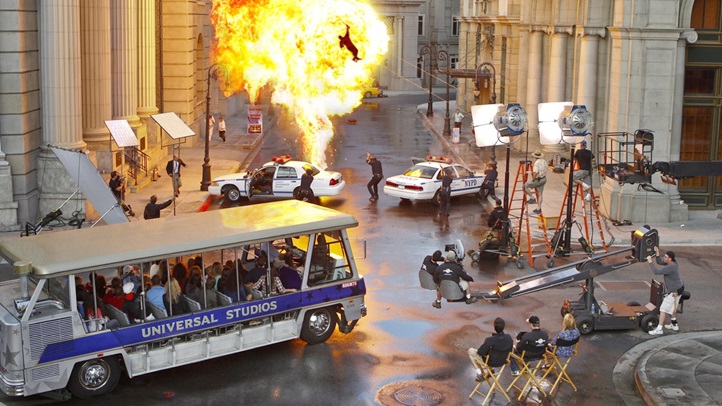 Every city boasts some pretty iconic jobs and occupations, the kind of positions many people elsewhere tie to the place and all it represents.
Movie star is definitely a gig that's associated with Southern California, as are lifeguards and any occupation that places one at the beach or on a red carpet. Then there are the studio jobs, the ones specific to sprawling backlots and theme parks, the kind of storied, industry-specific work that's fairly rare outside of our region or Florida.
The Universal Studios Hollywood Studio Tour guides are at the forefront of that movie-mythic group.
The Scene
What to do, where to go and what to see
Very mythic, indeed. Bet you can name the color the guides wear -- blue is correct -- and bet you can name what they do. Ah, you're right on the money again: They drive the open-air trams by the "Psycho" house and other film- and TV-famous sights of the Universal backlot.
So how does one line up that plum, chatty, out-in-the-sunshine role? An open-call audition is step one. The theme park is holding one on the afternoon of Monday, May 4, with the goal of hiring 40 new guides to join the nearly 100 already on staff.
Yep, that's a fairly big addition to an already sizeable coterie of pop culture smarties. And you already know, if you've taken a Studio Tour, that the guides are outgoing, personable, easy to chat with, quick with a quip, and, yep, can drive and talk about Universal's contributions to entertainment at the same time. (No small feat, really.)
What's new on this audition go-around? "Fast & Furious--Supercharged" is debuting at the end of June, and as the "grand finale to the world-famous Studio Tour," consider that the guides'll have to know their Furious fandom facts pretty darn well. Also, Nighttime Studio Tours will also be revving up, adding a moonlit dimension to the iconic roll through the hilly terrain.
"Roll" is a good word to keep in mind as you head to the May 4 tryouts. Not only do the tour guides have to roll, physically, in the trams, with their guests, but they also have to roll in general, politely and pluckily, with random questions, talkative riders, and any kind of quirky thing that arises on what is one of LA's most quirky to-dos.
"English, bilingual Spanish, and Mandarin-speaking Tour Guides" will join the roster after later interviews and face-to-faces, all of which will follow the May 4 auditions. If you're called back, of course.
And should you be over 18? Yes. You should be.
For all the information you should know before going for one of Southern California's most iconic gigs, brush up here, backlot buffs.
Copyright FREEL - NBC Local Media