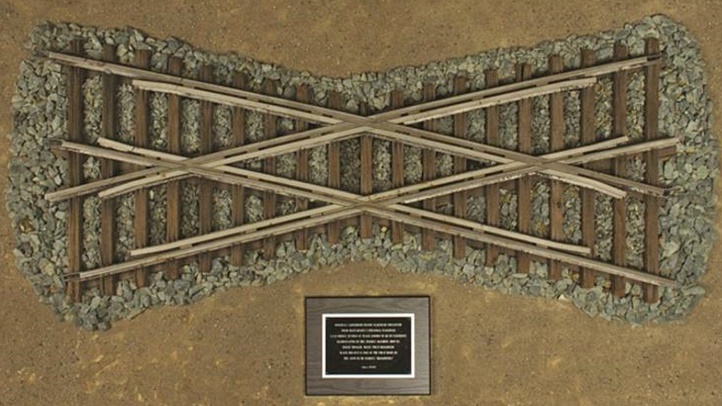 Throwing around your Disneyland trivia skillz?
Showing that you know what artist was behind the Haunted Mansion's stretching portraits, what year Space Mountain opened, and what you see if you look up at Snow White's Scary Adventure while standing in line for Peter Pan's Flight?
Please. You're not even playing here.
The Scene
What to do, where to go and what to see
You know where all of the Hidden Mickeys are, which shops carry Tiger Tail treats, and the best benches for shade. And you know that, above all, the Disneyland Railroad is just about the heart of park, even as it circles it.
For a railroad once existed in the backyard of Walt Disney's Holmby Hills home, inspiring the much larger version that would eventually toot-toot through the Anaheim theme park.
And a large portion of that original railroad track just went up for auction, on Saturday, July 7, and the highest bidder claimed it for $70,800.
It's the "A Brief History of Walt Disney Studios" auction we speak of, at Van Eaton Galleries in Sherman Oaks, and collectors, fans, and curious parties bid on over 600 different items with ties to the theme park, to the company's studio, and to items such as Mr. Disney's original rails.
Other top prices for the E-ticket items on the block? A Ranchero Vistadoras Camp Sign, signed by Walt Disney, went for $22,420, while a Disneyland Gold Pass signed by both Walt Disney and Roy Disney hit $8,850 for the ultimate bid.
Love the rootin', tootin' Golden Horseshoe at Disneyland? A concept drawing sold for $14,750, while the wayback Walt fans will dig that a Laugh O Gram Films stock certificate sold for $24,780.
There are still catalogs of the auction for sale on the Van Eaton Galleries web site.
Blue you missed it? Stay tuned, Mouseketeers: Van Eaton has become known for dazzling Disney-related auctions, so sprinkle some Tinkerbell-style pixie dust, and make a wish that another one will emerge, like a fairy godmother from a cloud of glitter.
By the way, that would be Marc Davis, 1977, and the Evil Queen peeking out from the curtains above the ride, to answer the initial questions above.
But then you knew all that because, as mentioned, when it comes to Disney trivia? You're cool, as cool as the Matterhorn.
Copyright FREEL - NBC Local Media