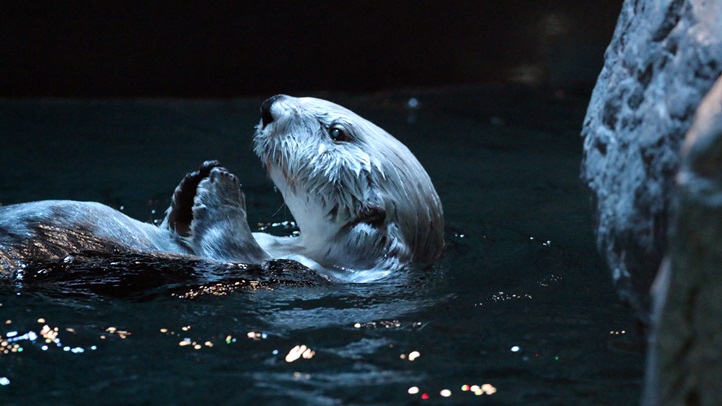 When you expect a certain number of otter stories to steadily flow your way over the course of a normal month, and you've enjoyed so many inspiring ones in recent weeks, you can find yourself demanding even more.
Because once you've read about that ancient giant otter fossil that was found in China, and the tender tale of Selka, the Monterey Bay Aquarium's super-smart rescue otter, your understandable demand for more whisker-wonderful items only increases.
We're just being honest here, right, otter people? Right.
The Scene
What to do, where to go and what to see
So fear not, because something mighty sweet happened at the Aquarium of the Pacific on Thursday, March 2, and the star at its center is a handsome marine mammal of great note.
We speak of Charlie here, a southern sea otter, who has the lofty designation of being "...the oldest known southern sea otter in a zoo or aquarium." So when a milestone birthday rolls around for Charlie, say, like his big 20th, you can bet that the keepers are going to really do it up for the water-loving, roly-poly sweetheart.
Which they did. Guests donned birthday hats and sang "Happy Birthday" to the furry fellow. And did he enjoy some tasty treats that were created his honor? You bet.
Charlie's start, and arrival at the Long Beach-based aquarium, has some heart-tugs to it, no doubt. He was but a pup, really, or just past pupdom when he was "...stranded, rescued, and deemed non-releasable to the wild before arriving to the Aquarium in 1998."
As far as the typical lifespan for a male southern sea otter? Aquarium experts put it at around 15 years.
Charlie has passed his nearly two decades as a denizen of the aquatic institution dining on delicious, nutrious seafood and delighting the infatuated humans who linger to watch as he splashes and twirls about.
Even if you didn't get a chance to attend Charlie's party, wave hello to him next time you're at the Aquarium of the Pacific. He's an otter-amazing celebrity here in Southern California and beyond, and he has now passed a birthday-big marker.
Copyright FREEL - NBC Local Media