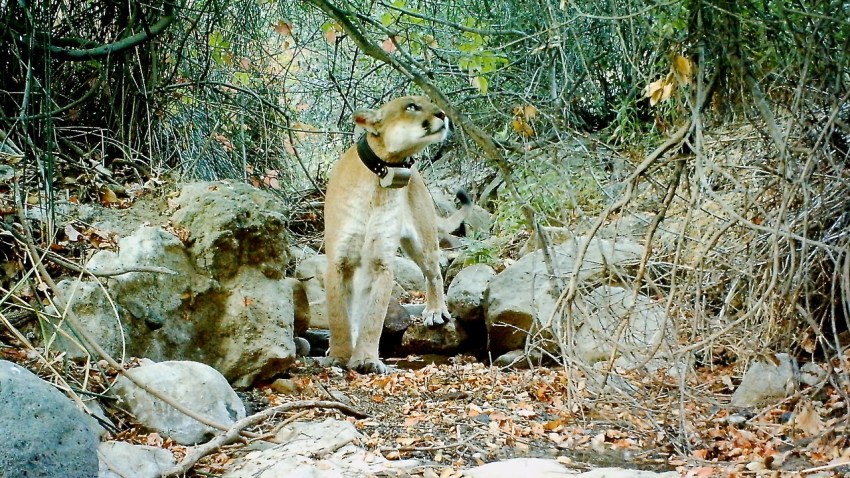 Spying a celebrity standing regally before the Hollywood Sign is not an uncommon sight, especially in glossy magazine spreads, the kind of features that capture the star with the iconic hillside letters in the background.
Without argument, though, the most obsessed-over luminary to be seen in front of the sign in recent years is P-22. The mountain lion appeared in the December 2013 National Geographic, thanks to a stunner of a photograph by Steve Weber.
But fans of the roam-about feline also have followed his adventures via his Facebook page, which frequently shares snapshots and video of the big cat as he makes his moonlit way around Griffith Park.
The Scene
What to do, where to go and what to see
It's a devotion that's deep, so much so that P-22 has his own festival, a party that's part of the larger Urban Wildlife Week, which is on now through Saturday, Oct. 22.
Two major components of this cat-tastic happening? Mavens of Mr. P-22 are re-tracing his "historic 40-mile trek from the Santa Monica Mountains to his new home in Griffith Park." The multi-day hike's purpose? To, in part, "point out vital connections that are still needed for both wildlife and people along the way."
"Residents and businesses along the route are encouraged to come cheer on the hikers," reveals the National Wildlife Federation.
You can eye the route and follow along here.
Capping off the multi-day walk in a wonderful and celebratory fashion is P-22 Day in Griffith Park on Saturday, Oct. 22. Attendees are invited to hike the final half mile with those on the long hike, and then join a jamboree that has a love of nature at its heart.
Will you get a pic with P-22, or at least a handsome cut-out? You just might. Will there be drumming, mariachis, food trucks, animal yoga, and letters written to P-22 by students read aloud at the daytime gathering? There will be.
Entry is free, by the by. Free as a mountain lion or other city-living critter on a nocturnal ramble. Free as a crisp autumn breeze through a clutch of Griffith Park oaks.
The notion of living right alongside wildlife in our big ol' megacity might seem fanciful to some, or even something out of science fiction or the movies. But those Southern Californians who've watched a raccoon ramble down their street, or squirrels at play in their garden, know that for all of that asphalt and glass and steel we see, we make our home in a wild-lovely place.
Copyright FREEL - NBC Local Media