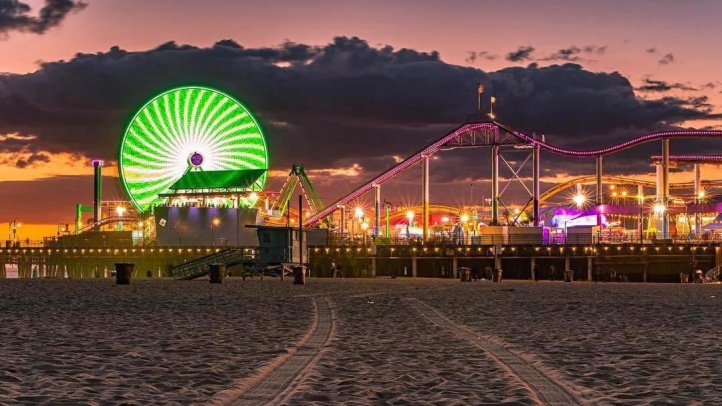 What to Know
March 17
Sunset to midnight
Free to see
A pot of gold, found at the end of a rainbow, as seen in a film or television show?
Not only will such a vessel positively brim with hundreds of coins, but those coins will do something that IRL coins do not do: glow.
For while in-real-life discs of metal stay rather on the dull side, the magical gold coins seen in the pop culture related to St. Patrick's Day often emit light.
The Scene
What to do, where to go and what to see
And while we can't promise that you'll find a cauldron of glowing coins on Sunday, March 17, you will discover a beautiful glowing round object if you happen to be adjacent to Pacific Park at Santa Monica Pier just after sunset but before midnight.
For that's when the Pacific Wheel, the celebrated solar-powered Ferris wheel found at the end of the pier, will go green in honor of the holiday.
Not only will with giant wheel, which rocks 174,000 LED lights, illuminate emerald-like hues, but there shall be "Irish green patterns and lucky shamrocks" to admire, too.
Those'll be some mighty sizable shamrocks, given that the Pacific Wheel stands at over 130 feet high.
So if you need to do some wish-making, and you're the sort of person that prefers to vocalize your fondest hopes in the presence of a shamrock, then you might want to get to the edge of the ocean, on the evening of March 17, 2019, for you won't find a bigger shamrock anywhere.
Nor will you find the glow that is so often seen in St. Patrick's Day pop culture, the one that says "luck is near," in any other location.
But the Pacific Wheel shall brightly glow green, for one night only, shimmering with fortune and festive spirit.
Can't make to Santa Monica? Lucky you: There's a live cam.
Copyright FREEL - NBC Local Media