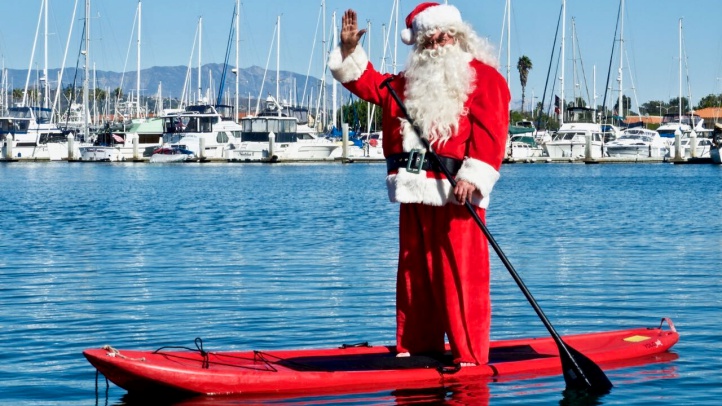 What to Know
Saturday, Dec. 8
11 a.m. to noon
Free to join; equipment rental runs $15-$23 at nearby shops
As much as cute coastal towns do love their lighted boat parades, come December, they also show a growing affection for placing costumed revelers on stand-up paddleboards and in kayaks.
These events, while splashy in every sense of the word, aren't the same as the after-sundown processions that see yachts and skiffs glowing under a tangle of blinking bulbs.
Rather, they happen in the daytime, and, yes, pretty much anyone who is up for it, and has a paddleboard or can rent one, can participate, making the barrier of entry a bit lower (should you not own a yacht).
The Scene
What to do, where to go and what to see
And while colorful characters have been seen around our shores in recent years, like the famous Witch Paddle of Morro Bay, it is all about Kris Kringle, and people in festive Christmas wear, at Ventura Harbor Village at the holidays.
Which means that Santa Claus will again paddle out, on Saturday, Dec. 8 at 11 a.m., alongside anyone who'd love to join him. You can rent what you need around the harbor shops, with prices coming in under $25, depending upon where you go.
And, for sure: Dress festively for the Santa Paddle, for you could score a $40 gift card, if your get-up is judged to be the most joyful and/or outlandish.
Ventura Harbor Village's C Dock is where you'll begin, the Channel Islands National Park Visitors Center is where it all ho, ho, wraps, and if you'd like a peddle boat, that's cool: Ventural Boat Rental has options, in case you don't want to do the stand-up-and-paddle thing.
The whole merry shebang'll be over in an hour, as, yes, Santa Claus needs to return to the North Pole, after an invigorating hour spent soaking up those Ventura-style vibes.
And beyond any equipment rentals? Joining is free, as is spectating. Seen a bunch of Santas, or Santa-attired Santa fans, paddling with the superstar himself?
It's as California a sight as the paddleboarding witches of Morro Bay, as a lighted boat parade, and as a palm tree don up in tiny blinking bulbs.
Copyright FREEL - NBC Local Media