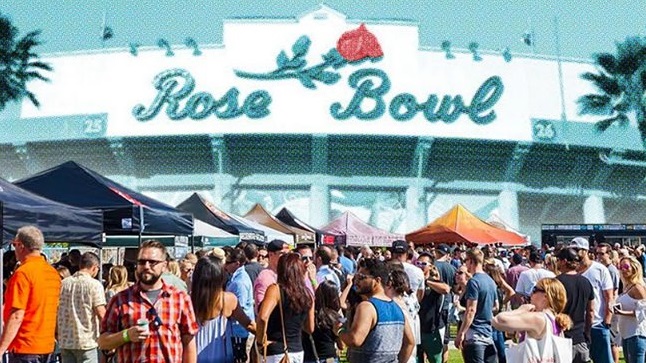 Dearest Rose Bowl,
We, like you, are keeping a close eye on the calendar, and we know your big day is just a couple of months away. (True story: We also know you have lots of big days, being the entertainment and sports landmark that you so awesomely are, but we're talking about the day, New Year's Day, which is actually the day after New Year's Day in 2017, so, Monday, Jan. 2.)
Ahem.
The Scene
What to do, where to go and what to see
Our direction here? You still have time to do some celebrating, before a certain tournament revs up, and Saturday, Oct. 15 will be a mighty fine day for a fall party, seeing as how the thermometer will genuinely reflect traditional autumn temperatures (and not the fiery heat we so often see around this time of year).
That fall party is the Pasadena Octoberfest, and that is with a c, not a k, and it is a one-day thing, so people should not hem, nor haw, believing that they can swing by on Sunday and still find some sort of festivity afoot.
The Saturday-only to-do will welcome more than 50 breweries, including Saint Archer Brewing Company, Left Coast Brewing Co., and Ballast Point Brewing & Spirits.
There shall be food vendors, too, and a VIP dining experience, and live tunes to chow down along to, if you like some music with your meals.
Above all, there will be a Raise the Stein contest, which is an Oktoberfest-specific showdown, which is all about holding a notably heavy beer vessel, with a straight-elbowed arm, for a good length of time. Five winners will go onto Vegas, for another competition, all with the hopeful eye on maybe heading to Munich for Oktoberfest in 2017.
Tickets, including designated drivers? Look here. And, an update: Your ticket will raise support for Cancer for College, which "helps cancer survivors realize their dreams of attending college through providing college scholarships."
Savoring a semi-crisp, light-sweater-almost-required fall day with something sparkly and sippable in hand? That doesn't happen too often 'round LA, and the heat shall return for a brief cameo in a week.
So fall fans best jump into an autumn to-do on an autumn-like day, like one might jump into a pile of leaves.
And while there likely won't be any leaf piles to be seen near the Rose Bowl, let us say that the trees of Brookside Park are so lovely come the fall. Brookside, you're so darn bucolic, and we wanted to give you the spotlight, too, along with your beloved neighbor.
May beer buffs and fall fans enjoy these seasonal sights, and some seasonal sips at a SoCal landmark, the Rose Bowl, a few months ahead of the landmark's world-famous occasion.
Copyright FREEL - NBC Local Media