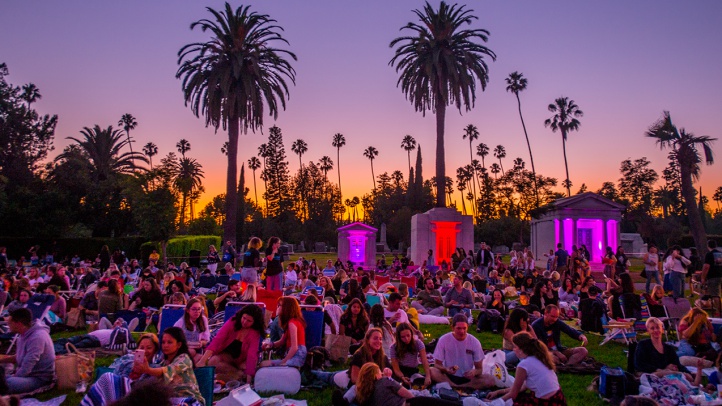 What to Know
Aug. 31-Sept. 21 (select nights)
$12-$20
The final film, "Moulin Rouge," will include fireworks
As quickly as a golden leaf drifts to the ground, summertime comes to its inevitable conclusion.
Wait, what are we saying? Leaves don't really get that colorful around Los Angeles before November, and we're here to rhapsodize about Cinespia's final 2019 run at Hollywood Forever cemetery, which happens well before then.
So while it might not exactly feel like fall is on the breeze just yet, the popular alfresco film series will screen its final cemetery-based flick just two days before autumn officially begins.
The Scene
What to do, where to go and what to see
That'll be "Moulin Rouge," and to send off the season, which is presented by Amazon Studios and Amazon Prime Video? Prepare to enjoy a fireworks presentation on that same night.
That night is Sept. 21, but there are a few September treats ahead of the Baz Luhrmann's lavish tale of love.
Cinespia, which revealed its final cemetery screenings for '19 on the last day of July, will also feature "Harry Potter and the Chamber of Secrets," "When Harry Met Sally...," "Blade Runner," and "All About Eve" on select nights in late August and September, with "Moulin Rouge" rounding the whole stellar schedule out.
For dates and prices and need-to-knows about picnicking and such, click.
For the 2020 schedule?
Ah, that will be months away, so best start watching for the fresh film announcements in the springtime. For now, there is a bit of Hollywood Forever cinema magic to go, before autumn blows in and cemetery movies conclude, at least for another season.
Copyright FREEL - NBC Local Media