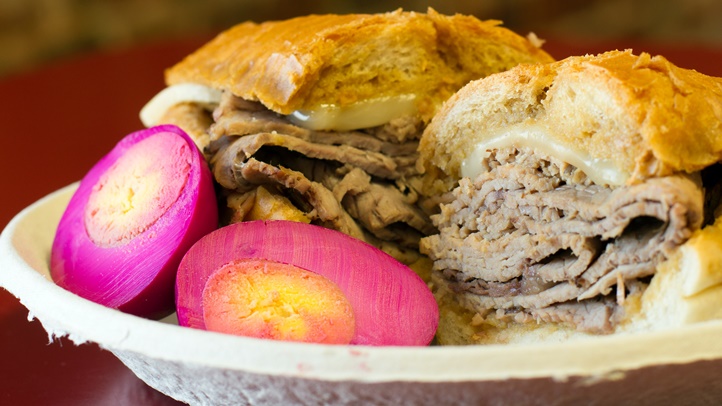 What to Know
Philippe the Original
New partnership with Postmates
Delivery window: 10:30 a.m to 9:30 p.m. daily
Let's not squabble about what "ASAP" means, or even "asaper than ASAP," when there are so many beautiful matters we can wholeheartedly and wholestomachly agree on.
Like?
Mustard can sometimes be sinus-brighteningly hot. Soft bread that's been au-jus'd can be exceptionally savory.
The Scene
What to do, where to go and what to see
And enjoying a classic Los Angeles sandwich of the heartiest variety, from the easy perch of one's own sofa, without going outside into the world to purchase the aforementioned sandwich, just might be a major thing of delight.
And such a major thing of delight arose, like the fragrance rising from a freshly composed Philippe the Original French Dip, on Wednesday, Nov. 28 when the iconic eatery announced it is launching local delivery.
Indeed, you may remember that Philippe's revealed an online delivery service in the spring of 2018. This is not the same, but it is very Southern California: Postmates, Philippe's new partner, will be bringing up the local delivery end of things.
Ladle on the hot mustard and give a hearty shout of joy, area Philippers.
Things to nosh upon, before ordering?
There's a daily delivery window of 10:30 a.m. to 9:30 in the evening. "Delivery radius depends on peak hours and availability of drivers from Postmates," says the restaurant site.
And, indeed, you can order more than just those Famous French Dips, if you're hankering for old-school pickled eggs or pecan pie at home.
Will your French Dip and coleslaw and tapioca arrive asaper than ASAP?
Again, we're not going to squabble over that one. But we will say that mustard is hot, a French Dip is filling, and being able to chow down on one of our city's starriest sandwiches without getting out of your comfies is now an awesome option.
The details? They're as tangy as a dollop of fiery mustard. Read all.
Copyright FREEL - NBC Local Media