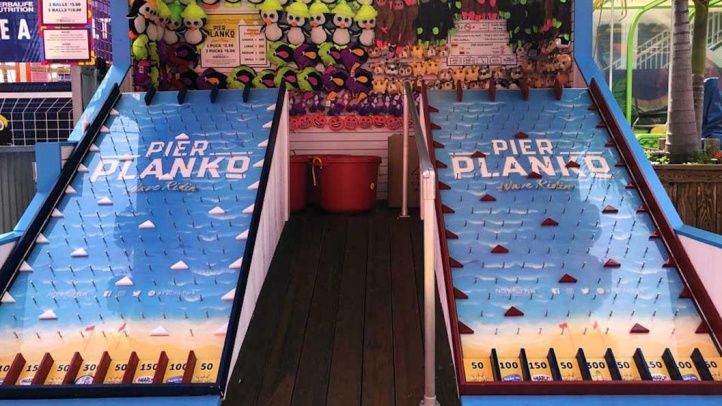 What to Know
Pacific Park at Santa Monica Pier
The "original game design" was "constructed by the Pacific Park team."
Pacific Park is free to enter; games and food are additional
Nostalgia can rule certain of areas of our lives with real strength, the kind of strength that seems stronger than any strongman game found at a carnival.
We like our retro pleasures how we've always liked them, in short, and we're not looking for too much change when we call upon a classic amusement park.
The Scene
What to do, where to go and what to see
And yet? Sometimes changes pop up, the sort of changes that fit so seamlessly into the candy-colored scene that you wouldn't even know that they're new.
Take Pier Planko, the latest addition to Pacific Park at Santa Monica Pier. The game's design, appearance, and rules all suggest it hails from another day, and yet? It just made its debut, in time for summer 2019.
Meaning this new vintage-feeling fun time, which was designed by the Pacific Park team, may feel old-school to you and yet fresh.
The question, however, is whether you can send a puck, the "surfer" in the game, from the top of the graded Pier Planko board down, down, down to net the top point value of 300.
One puck? That's two bucks, and three pucks go for a fiver.
There shall be pegs and wedges, both, to slow your surfer's, er, puck's descent, as is the way with traditional planko.
And, yes, your puck may eventually reach the lowest score on the board, 50, but, either way, you got to cheer the lil' dude on for a little while.
Which is, after all, one of the enduring pleasures of an amuseument park: Cheering for yourself, or a friend, during the duration of a game, whatever the outcome.
And hey there: "Points can be combined when dropping multiple pucks and prizes start at just 100 points."
There are two Pier Planko boards, for racing, if you're so inclined, and that they are blue, with "sandy" bottoms, means they fit in well at the free-to-enter amusement park.
Some things are new at some of our favorite been-around-awhile spots, and that's okay. Especially when they fold in well with the feel of the place, while simultaneously adding a little extra pizzazz.
And upping the pizzazz? This is a game that's an original, created right here in SoCal, and it can only be found at Santa Monica Pier.
Gamehounds and collectors of boardwalk-style experiences, is this your next get?
Copyright FREEL - NBC Local Media