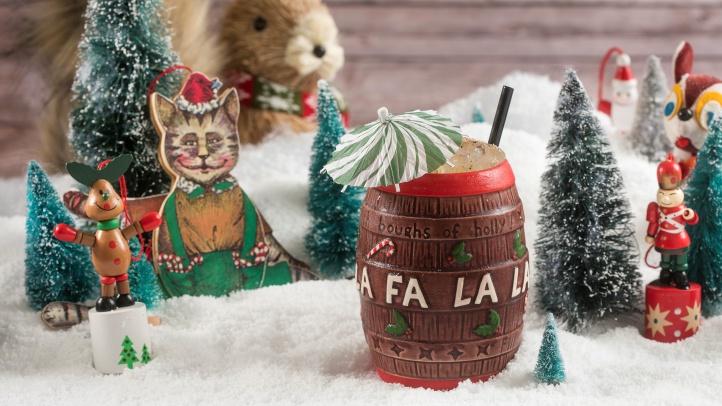 What to Know
Miracle at The Kimpton Everly
Through Dec. 31, 2018
Specialty cocktails, like the Run Run Rudolph and Bad Santa
We reside in a veritable fantasy forest of themed pop-ups, here in Southern California, here in 2018, and one glance around will tell you that these brief, here-today, gone-in-a-month-or-so events are increasingly going the eye-catching route.
No complicated argument needs to be made that Miracle, a pop-up bar themed to the holidays, is incredibly eye-catching, and palate-pleasing, too.
The bar, which debuted at The Kimpton Everly Hotel in Hollywood over Thanksgiving Weekend, offers a line-up of libations that rock both Christmassy names and the sort of spice-strong flavors we see more of come the close of the year.
The Scene
What to do, where to go and what to see
Is this the only Miracle around?
Why Miracles do abound, all across the country: This is a cheerful chain of adult-welcoming pop-ups, with the LA HQ centered, as mentioned, at the fashionable Tinseltown hotel. (There are 80 Miracles in all, across the nation, if you're taking your own team of flying reindeer beyond Southern California this season.)
Drinks on the merry, merry menu include the Run Run Rudolph, which includes prosecco, gin, mulled wine puree, lemon, and cane syrup, and the Bad Santa, a milk punch served steamy (rum is a key and potent component).
A gargantuan ('n gleeful) inflatable Santa Claus, snowfall of a quasi-authentic nature, and other sprightly details add to the atmosphere.
The general vibe? Prepare for some "throwback" style, so do proudly wear your dad's '70s-era snowman turtleneck, if that floats your boat.
Or, er... jingles your sleigh.
Hours run from the late afternon to the late evening, and even, on some days, the wee smalls of the morning, as in after midnight, as in when the cold stars of wintertime are twinkling brightly.
More pop-up prettiness from this 21+ treat? Ho, ho, and go to the Miracle site now for all of the turtleneck-y to-knows you need.
Copyright FREEL - NBC Local Media