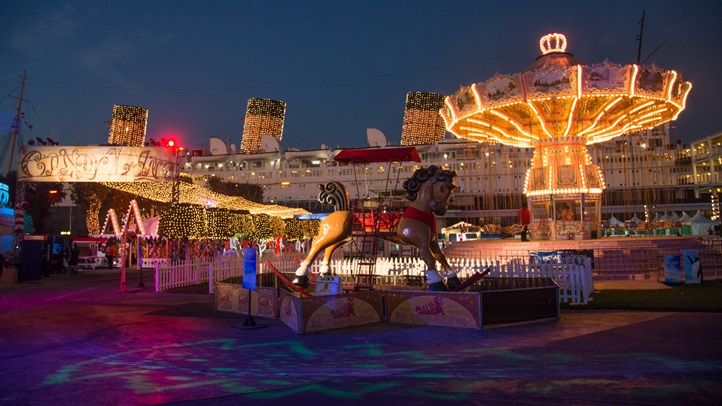 What words do people utter the most around Southern California come early October? Perhaps "boo" or "Happy Halloween" or "eek" or any of the declarations associated with the spookiest of months?
Or do they say "hoo boy it is too warm for autumn" while mopping up the beads of sweat on the nape of their neck? True story: They do.
There's another scorchy stretch ahead for our area, with temperatures flirting with the high 90s, but consider this: You can already begin to dream frosty dreams by turning your overheated attention to the Queen Mary and its annual holiday time treat, CHILL.
The Scene
What to do, where to go and what to see
Is this the multi-week extravaganza with all of the ice sculptures and vignettes under the big dome next door to the Long Beach-based ocean-liner? It is. Does it have the massive ice rink out front, with the iconic ship in the background? That's the one.
Will there be a fresh look for some of the icy artworks in 2016? Ponder this, literature mavens: "Alice in Winterland" is the theme to come, a theme that will include an "adventure with RIFD technology" and "larger than life lanterns" that are sure to up the general air of whimsy.
Does the world's largest rocking horse make a cameo at CHILL each year, the better to bring old-fashioned charm to the mitten-up event?
Neigh! (Which sounds like "no" but is actually "yes" in the language of rocking horses.)
This is all to say, before our sweat-inducing days return, that CHILL tickets are now available, and you can score a deal that's as sweet as gingerbread on the Nov. 23 through Jan. 8 experience if you purchase your ticket through Friday, Oct. 7. (Spoiler: The discount is 50% before that date.)
Santa visits, warm cocoa-yummy beverages, and other straight-from-a-Christmas-card goings-on fill out the ship-close happenings throughout the lengthy run.
Our summery, sun-hot afternoons aren't quite done for the year 'round the region, but knowing that a mega rocking horse, and Alice-y art made from ice, is on the way, might make those toasty temperatures a little more bearable.
Or teddy-bearable, if you want to get into the whole cuddly cuteness of the holiday season's charming go-outs. No? A bit too far? Okay then.
Copyright FREEL - NBC Local Media