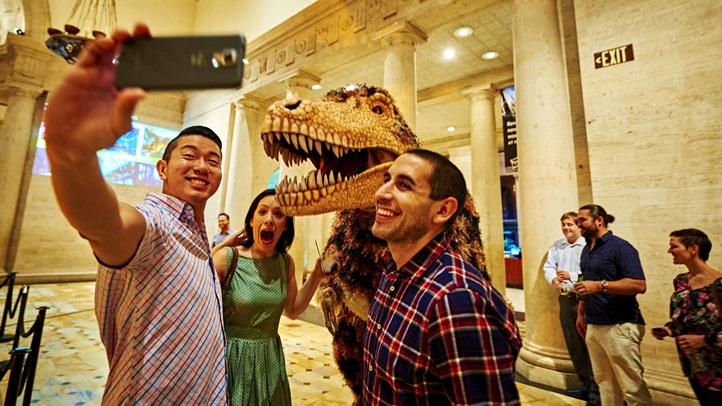 Let's get real here: If you were starring in a blockbuster set in some misty prehistoric era, and you and your party learned that dozens of dinosaurs awaited you over the next ridge, what would you do?
In reality you might head quickly in the opposite direction, but in a film you're dashing straight to the center of the chompy, stompy action. Think of that truism when the weekend of Saturday, Sept. 24 and Sunday, Sept. 25 rawrs into view and you're pondering whether to run headlong into the Natural History Museum, which will be staging its first-ever Dino Fest.
You've been forewarned: There are dinosaurs at Dino Fest, which is called Dino Fest, though they're of the bone-beautiful, puppet-cool types (no real T. Rexes are as of yet on the museum's schedule). In fact, there are a trio of categories to consider when approaching your time at the fest: In the Field, In the Lab, and In Pop Culture.
The Scene
What to do, where to go and what to see
The ancient, real dinosaur bones part of the weekend come from NHM's many displays of beasties of all sizes, and scientist talks and tours. A bevy of paleontologists will be in the house, discussing nifty things like dinosaur digs.
The puppet, not-real dinosaurs will come courtesy of "Dinosaur Encounters," which unleashes sizable creatures into the museum's gallerys, creatures that can walk and turn their heads and gently glower at a delighted, giggling public.
Giggling with delight, we'll add, though when a moving Triceratops glances your way some nervous laughter can understandably make a cameo, too.
A host of activities, a meet-and-greet with Buddy the Dino of PBS, a dino-themed game show, a workshop devoted to drawing dinosaurs, nifty dig pits that you can take a crack at, and in-depth looks at paleo imaging are on the big-as-a-sauropod slate.
And if you haven't checked out the Pterosaurs: Flight in the Age of Dinosaurs exhibit, swing by and study the epic flying reptiles before they wing out of the Exposition Park institution on Oct. 2.
Tickets to Dino Fest? Quite the bargain, especially when compared to building a time machine back to the Jurassic era (plus, you're never really sure where your time machine will land, exactly, which could be dicey if it lands in a clutch of over-sized eggs ready to hatch).
An adult entry is twelve bucks, and that includes general museum admission, too. And you don't even need to run into a nest of dinosaurs to buy it: Stay put, stay far out of T. Rex's way, and start right here.
Copyright FREEL - NBC Local Media