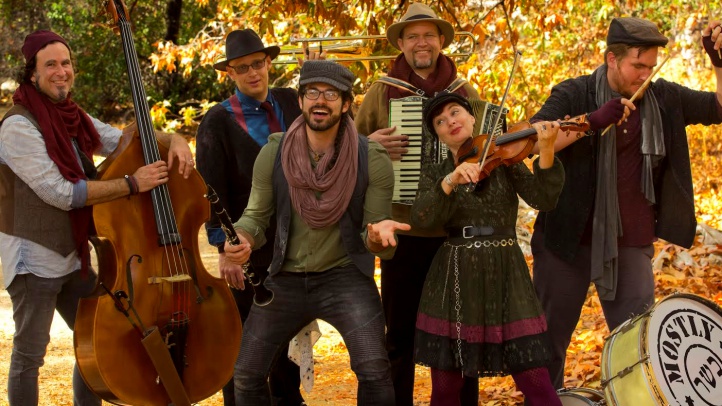 What to Know
Four select December weekdays at 11:45 a.m.
Locations in and near California Plaza in DTLA
Free
Movies often depict harried holiday shoppers rushing headlong into some December weekday, a stack of wrapped boxes precariously balanced in their hands.
We have questions, like: Why are the boxes already wrapped? It's a great visual we suppose. And why precariously attempt to balance the boxes? Seems unwise.
If this isn't you at all, and you're done with shopping, or you simply like to keep December days as chill and low-stress as possible, be glad and full of glee: Grand Performances is back, over some weekday lunchtimes, at outdoor locations in DTLA, which means several things at once.
The Scene
What to do, where to go and what to see
For one? You won't pay a thing for a super show, as Grand Performances are historically free.
For two? You'll soak in that soft pre-winter sunshine over the noon hour, sitting in the roofless plaza.
And you won't deal with rush hour traffic to get there, but rather midday traffic, which is still traffic, but, hey, kind of better, generally.
First up?
Mostly Kosher, on Tuesday, Dec. 3, at the Spiral Court at California Plaza. Next up, after that klezmer-amazing show? The "Latin-inspired soul rock" of The Altons, in front of 1 Cal on Grand Avenue, on Wednesday, Dec. 12.
After that? Urban Voices Project sings in California Plaza on Dec. 13. And then David Garza rounds it out, on Dec. 18, at The Cabaret Stage.
All shows begin at 11:45 a.m., which is a time of day that needs more live music. Why should 10 p.m. get all of the rock-out fun when so many of us seek a late-morning pick-me-up of that get-out-and-groove kind?
Again, all free, all downtown, all delightful. And if you don't feel like following what you're supposed to do this holiday season, on the rush-rush-stress front, take an hour, take some sunshine, and take in some sounds, courtesy of Grand Performances.
Copyright FREEL - NBC Local Media