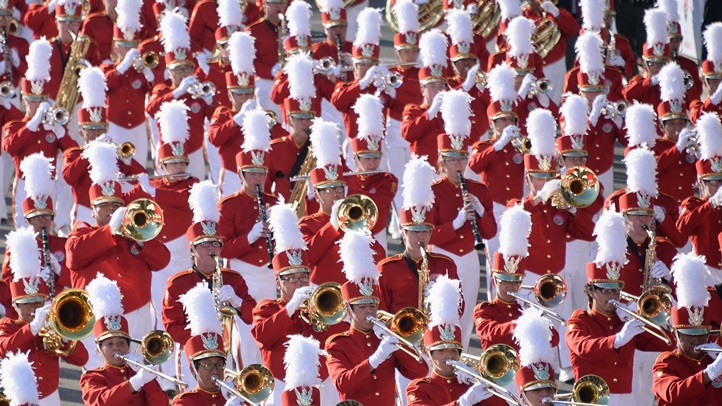 "Three in two" seems like an obscure math problem, or a reference to a store sale, or something found in a music worksheet, as a method for counting out beats or notes.
It's actually an easy way to remember how Bandfest, the annual live preview of the marching bands appearing in the Rose Parade, unfurls.
Yes, Bandfest happens over two days, as is tradition (you might have heard that the Tournament of Roses, which is headed into its 127th year, is rather keen on tradition). Those two days in 2015? Tuesday, Dec. 29 and Wednesday, Dec. 30.
The Scene
What to do, where to go and what to see
But "two days" of Bandfest doesn't translate into two sessions; rather, there are always three to see, with two of the three happening over the course of a day.
You got it? Of course you do: three in two. Now your next step is to choose your sessions, or all three, if that's your jam, the better to soak up all of the brassy goodness that millions will see, and hear, on Colorado Boulevard this New Year's Day.
As always, Bandfest takes place at Pasadena City College, and, as always, the Pasadena City College Tournament of Roses Honor Band will be one of the outfits on the song-filled schedule. Other bands on the program include Mira Mesa High School of California, Allen High School from Texas, and the Latin Band Pedro Molina of Guatemala.
Remo is presenting Bandfest, and there shall be a Remo pre-show ahead of each session.
So where to get tickets? Toot your horn in the direction of Sharp Seating Company, the traditional purveyor of tickets for Rose-related happenings. Seats are fifteen bucks a pop per session. If there are still tickets left on the day of, you can try and make for PCC, to see if you can score a seat there.
If you do, consider how cool it is to be able to spend some extra minutes with a band, rather than having to soak up the sounds as they march past you on the parade route. That's really the true joy of the joy-filled Bandfest: the extra time.
And that "three in two" is a catch way to remember how it all rolls out.
Copyright FREEL - NBC Local Media