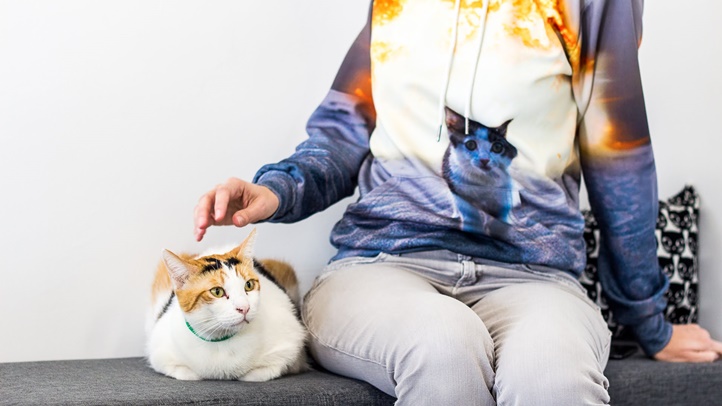 What to Know
The CatCafe Lounge
1736 S. Sepulveda
$25 for 60 minutes of cat time (plus a tea or coffee)
Sitting down on the sofa with a cup of joe and your soft-paw'd, tiny-nose'd bestie at your side?
You might think, as you gently wiggle into your favorite spot, that the whole process of sipping your coffee and petting your cat will go something like this: sip, pet, sip, pet, sip, pet, and so forth.
But you know, if you know felines, that the roll-out is more sip, pet, pet, pet, play, scratch, pet, pet, pet, pet, attempt another sip. Then the coffee is placed on a nearby table, out of paw's reach.
The Scene
What to do, where to go and what to see
We love our furry ones for their desire to hold our attention, and, yes, we do like a little beverage pick-me-up, too. Finding both, and a way to help cats across the region, would make almost anyone leave their favorite spot on the couch, but the new CatCafe Lounge is doing just that.
The West LA destination, which debuted in January 2018, puts people and cats together, all to help support "...decreasing euthanizations by increasing adoptions by socializing cats."
The "cafe" part of the name? There's a tea or coffee in it for you, if you'd like. It's $25, which includes your beverage, and the chance to spend 60 minutes with "30 super cute adoptable cats."
There's a Study Sessions option, too, which is $30. Spend four hours poring over the books on a weekday while cats around you frolic and charm. And special events are in the works, too, like a Kitten Shower on Saturday, Feb. 17.
Cat cafés have blossomed in the U.S. over the last few years, following a surge in popularity in parts of Asia. Finding a feline-tastic spot, though, still isn't as easy as strolling down any street, and locating one that puts an emphasis on increasing cat socialization, and thus adoption, is a heart-tugger of a find.
Want to check it out? You can reserve your spot and time on the site, meow.
Copyright FREEL - NBC Local Media