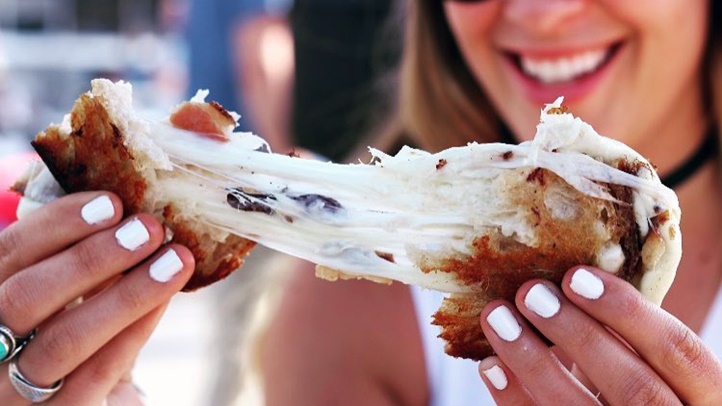 The drive between ROW DTLA and the Los Angeles Coliseum?
It's not all that long, if you think that 20 or so minutes is doable, which it basically is, at least in Southern California terms.
And if you happen to be at the Coliseum, and you're hankering for some of the savory delectables sold at Smorgasburg LA, the every-Sunday outdoor food market at ROW DTLA, you might even consider making the trip, for important culinary stomach-pleasing purposes.
The Scene
What to do, where to go and what to see
But you're at game, cheering on the Rams or USC, and leaving to run up to the Arts District-based market would mean missing some action. Plus? Smorgasburg LA is, as mentioned, a Sunday kind of thing, so if it is a Saturday? Your hankering for barbecue or fancy grilled cheese sandwiches, the sorts of hearty dishes found at the market, will remain unhankered.
Prepare to have those hankerings met, for a quartet of Smorgasburg LA vendors, including Cheezus, Black Rib Sugar Co., Rooster Republic, and Lobsterdamus, will be calling upon the Coliseum in 2017 with a line-up of luscious, rib-sticking meals in tow.
The Daily Dish of the LA Times revealed on Sept. 11 that the four artisanal food-makers will be showing up at Gate 16 at every USC and Rams game this year as Smorgasburg LA expands its edible-laden reach.
So what will be your pleasure as you root for the teams? A Sammie & Raclette from Cheezus? Lobster nachos from Lobsterdamus? A rack from Black Sugar Rib Co. or a Nashville Hot Tender Sandwich from Rooster Republic?
Your fall foodstuffs, football fans, have plentified, thanks to Smorgasburg LA, and a host of top-notch vendors, setting up shop at the LA Coliseum this autumn.
Copyright FREEL - NBC Local Media