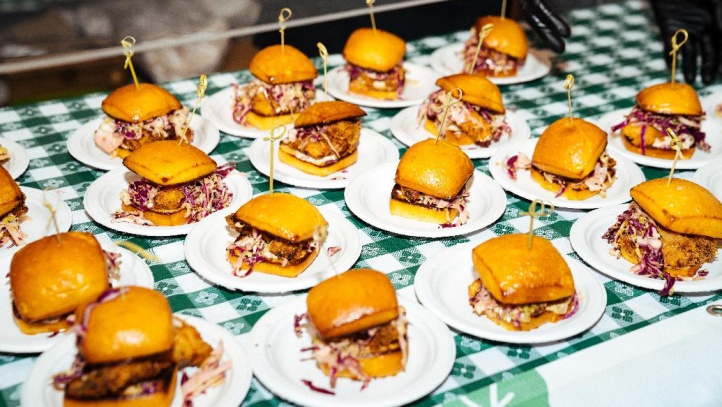 What to Know
Aug. 30-Sept. 1 at Paramount Pictures Studios
Oct. 18-19 at The MET in Costa Mesa
Early bird code: SAVE20 to save 20% on a ticket through July 18, 2019
Snacking, as a general pursuit, too often gets a wholly unearned bad rap.
It's often billed as grazing gone to great lengths, of eating that could use a little mindfulness, of several small bites that don't often add up to much.
The Scene
What to do, where to go and what to see
But snackery has its day in the delicious sun, too, at food festivals that offer an array of eat-tastic choices from a whole luminary-filled line-up of chefs.
One of the standard-bearers of the bite-this, bite-that scene? It is, for sure, LA Times The Taste, a block party that rounds up oodles of small plates and snackable goodies.
But "snackable" shouldn't make you think you'll be eating basic, from-the-box stuff; this is a party focused on our local culinary scene, so the sliders and cupcakes and tacos and everything-elses will all be created with gourmet flair.
Tickets are on sale for both the Los Angeles event, which returns to the Paramount Pictures backlot from Aug. 30-Sept. 1, and The MET in Costa Mesa, which is set for Oct. 18 and 19.
The food pros at the LA Times are at the helm of this festival, which not only includes "(u)nlimited tastings from the region's best restaurants" but also "a variety of wine, beer, and seasonal cocktails," too.
And shall there be demos?
That would be a big ol' "of course," for LA Times The Taste isn't just about the sublime snackery, but how to up your own food-making game at home.
Tickets are $80 to $115, and a code for saving 20% remains live through July 18, when the official line-up is revealed.
That's SAVE20, so move fast before this good deal slides away as fast as a fancy slider disappears from a plate at The Taste.
Copyright FREEL - NBC Local Media