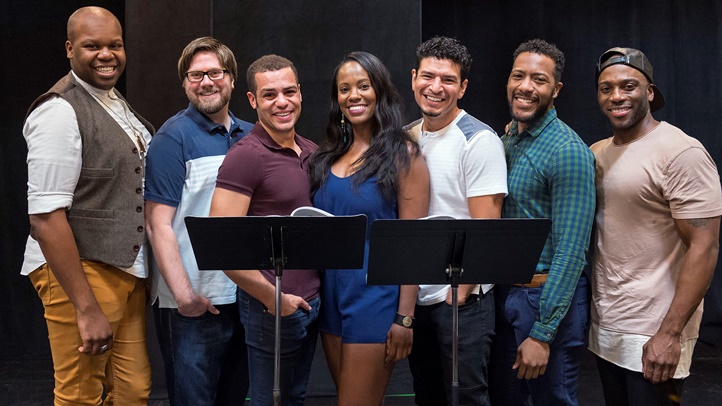 Ask any "Hamilton" fan to sing a song from Lin-Manuel Miranda's hit Broadway musical, beginning to end, with all the inflections and pauses, and they're bound to ask you a question in return: "Which one?"
Because the soundtrack, like the stage show, has become a flat-out follow-along phenomenon. Or, rather, whatever word is a bit stronger than "phenomenon," perhaps a word that suggests that "Hamilton" will forever remain one of the powerful pillars of the larger American storybook.
It's pretty special, then, for another "Hamilton"-esque musical treat to come along with a batch of tunes that have a familiar ring though not the lyrics known to HamFans everywhere.
The Scene
What to do, where to go and what to see
The songs of "Spamilton," however, are on track to also become well-loved and listened to, again and again.
As the name implies, "Spamilton" is a boisterous, full-throated parody of "Hamilton," one that calls upon a quintet of performers to croon, act, jest, and summon the pizzazz and spirit of the hit with some generous and twinkly tweaking of the tale throughout.
It's Off-Broadway cred? More than solid: It's been extended three times at The Triad in New York City.
Now "Spamilton" kicks off its national tour on Sunday, Nov. 5 at the Kirk Douglas Theatre in Culver City, with a local run that'll wrap on New Year's Eve. Gerard Alessandrini is the creator, writer, and director of the blithe-filled production.
"I laughed my brains out!" was the good word from "Hamilton" honcho Lin-Manuel Miranda.
The song titles include "Aaron Burr, Sir, Nervous-er" and "Lin-Manuel's Quest" as well as a host of other insidery nods and jokes. Broadway buffs and those who love the footlights scenes in and around the Big Apple will find much to feast upon throughout the show, too, beyond it clear affection for the production it is sending up.
Adding to that affection will be a karaoke session following the Friday night "Spamilton" shows, and, you got it: You and several co-fans will be warbling songs from "Hamilton," in addition to enjoying "revolutionary cocktails" and complimentary bites.
"Hamilton," by the by, is playing at the Pantages Theatre in Hollywood through Saturday, Dec. 30. The Pantages is 20-minute drive to the Kirk Douglas, without much traffic, so the next question to ask yourself is this: Will you do both "Hamilton" and "Spamilton" in the same day? Matinee and evening curtain?
You probably, we'll guess, don't want to throw away your shot.
Copyright FREEL - NBC Local Media