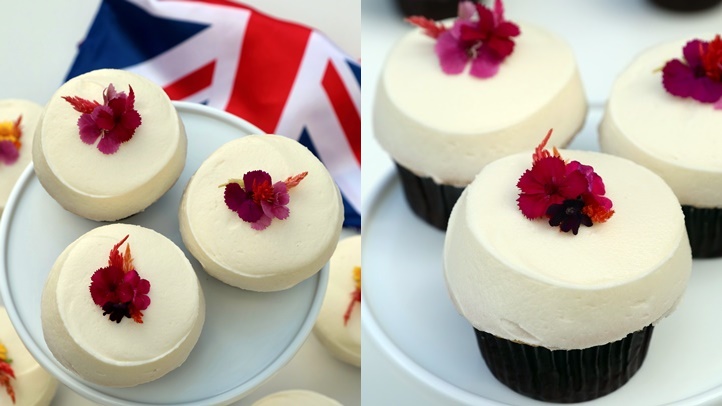 What to Know
Sprinkles locations
May 18-20; pre-order available
$4-$5.25
Eating while watching TV?
If that hasn't been invented yet, as a pastime, well, someone should probably dream that up, ASAP.
Oh wait, it has definitely already been invented, just about everyone seems to do it, at one time or another, and if there is a once-in-a-blue-moon televised event?
You can bet that viewing party menus and special dishes themed to the happening will pop up in the days ahead of the anticipated occasion.
Such is the stylish, sup-ready case with the royal wedding of Prince Harry and Meghan Markle, which is taking place at St. George's Chapel at Windsor Castle on Saturday, May 19. And, you bet, magazines and TV shows are fervently recommending the best dishes and drinks, from Scotch eggs to English ales, to serve for the middle-of-the-night matrimonying.
Well, it'll be the middle of the night in Southern California. The wedding is scheduled for noon, in Windsor, which is 4 a.m. in LA. Which, yes, might be the perfect time for a cupcake.
The Scene
What to do, where to go and what to see
Sprinkles Cupcakes can help with that hankering.
The acclaimed started-in-SoCal cupcakery has created a Royal Wedding Cupcake, based on the flavors of the couple's wedding cake, and it will be available at area Sprinkles for three days only: May 18 through 20.
"The flavor is a lemon blueberry cake that is frosted with St. Germain Elderflower vanilla buttercream frosting and topped with a mini edible flower bouquet," says Sprinkles.
The cost? Depending upon the location, the sweet'll run from four dollars to $5.25.
Want to pre-order this fancy frosting-top snack? You can.
Want to sit back on the couch, in your jammies, with a cupcake, before dawn, watching all of the Anglophile-amazing events from Windsor Castle?
Set the alarm, find your nearest screen, invite your royal-watching pals over, and, of course, line up all of the eats and drinks you intend to serve during the celebrated nuptials.
Copyright FREEL - NBC Local Media