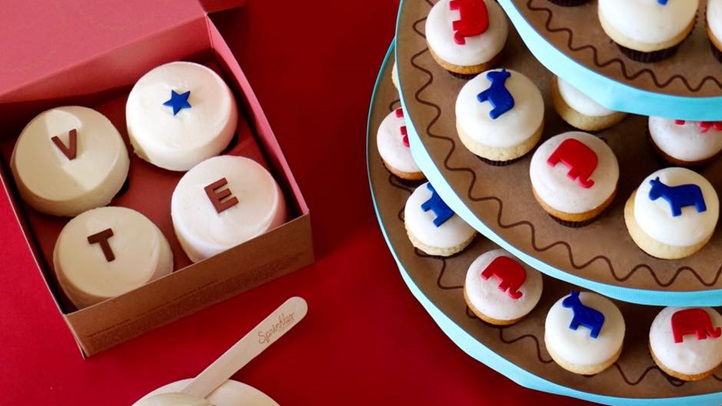 While a number of Southern California restaurants and bars will offer food and drink specials on Tuesday, Nov. 8, there are fewer opportunities to find take-home bites related to Election Day.
And what better sorts of take-home goodies are there to have on the votingest day of the year than cupcakes? You can chow down on them in a few big, strategic, icing-besting bites while scrolling through your go-to social media feeds, the ones keeping minute-by-minute track of how your candidates are faring.
Watching how your candidates and issues fare, and eating frosting-laden fare, is easier thanks to Sprinkles Cupcakes, which has just the dessert for the big event: donkey- and elephant-topped treats that, of course, arrive with blue and red details, including the hue-tastic marshmallow cream fillings.
The Scene
What to do, where to go and what to see
If you'd like to show with a box at your friend's viewing party on Tuesday night, best order ASAP, though: The cupcakes are only available through Election Day.
And if you pre-order the whole tower, complete with ribbon, you'll score five bucks off.
True story: This election is nearly at an end, and celebrations, watch parties, and red, white, and blue get-togethers will abound around town. Finding a restaurant deal, or special themed beverage, shouldn't be too hard on Nov. 8, but to do the tasty take-away thing, and to have it sport red or blue, will require a bit more searching, or a quick order to Sprinkles.
Info is good to have. Find it here.
Copyright FREEL - NBC Local Media