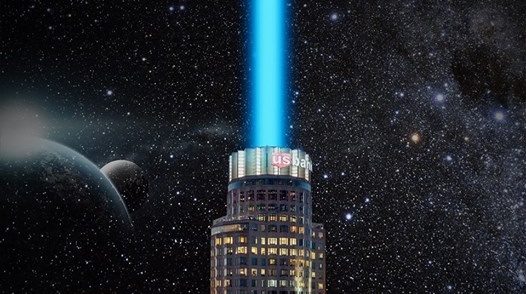 If you had to go somewhere in Los Angeles that would put you closer to the cosmos, at least closer, in theory, than you would be when you're on the ground, where would you go? Without boarding a plane?
That's right: You might look first to one of the tallest buildings downtown, heck, one of the tallest buildings west of the Mississippi, to get a bit more adjacent to the universe.
We're talking about the U.S. Bank Tower here, of course, and, atop it, OUE Skyspace LA, which will be marking Star Wars Day in some special ways high, high above the earth below.
The Scene
What to do, where to go and what to see
Oh, Star Wars Day? Why that's May the Fourth, of course. And if you don't say "May the Fourth be with you" several times to everyone you pass, gaze within yourself and consider why not.
Joy and mirth, it does spread. A fan, others will recognize you as.
As for the Skyspace soiree? It's from 6 to 8 in the evening on Thursday, May 4. The 501st Legion, "an all-volunteer organization dedicated to promoting Star Wars fandom," will be there, as will the costume-cool club Rebel Legion.
Your ticket to the gathering does include a ride on the Skyslide, which, it should be noted, is distinctly different from riding a Tauntaun. Also, Tauntauns aren't see-through.
Should you spend the earlier part of May 4th celebrating all things Star Wars in other spots — say, Tomorrowland at Disneyland or the Scum & Villainy Cantina in Hollywood — well, you won't be alone.
Many other fans will be out... in force.
The online world grows as bright as a star with doings for the special day, from deals to events. What's happening in the May the Fourth universe? Saddle up your Tauntaun and run in this direction.
Copyright FREEL - NBC Local Media