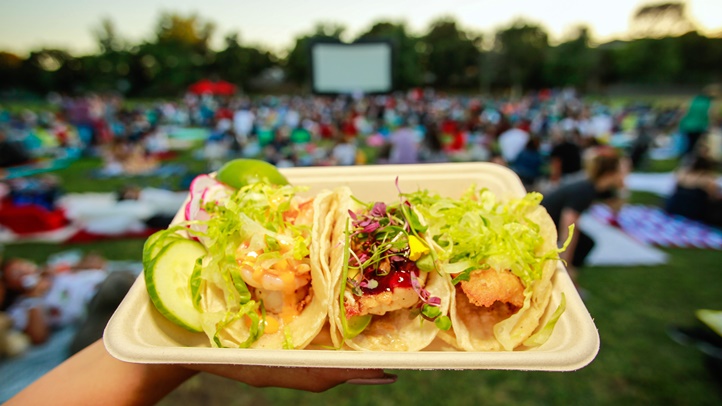 What to Know
Opens April 28, 2018
Various parks around town throughout the late spring, summer, and early fall
Food trucks and live music, in addition to popular classic films
A shelf that could hold all of the most perfect pairings in this world?
It would be pretty easy to stock jars of peanut butter and grape jelly. Likewise, French fries and a bottle of ketchup wouldn't take too much room, nor would cookies and milk.
But the stars and the moon? Trickier to place on a shelf. The same goes for movies and the outdoors, which is a sublime match-up come summer, though very difficult to grasp in the way one holds a ketchup bottle.
The Scene
What to do, where to go and what to see
Don't fret: Street Food Cinema has you covered, and you don't even need to seek out that aisle of ideal duos to find your outdoor movies. The annual happening, which is spread out over several dates over several warm-weather months, is back in late April 2018, and the schedule was just revealed on Tuesday, Feb. 27.
First up? "Dazed and Confused" will play, in honor of its 25th anniversary, at Los Angeles State Historic Park in DTLA on April 28. "I, Tonya" skates into Poinsettia Park in West Hollywood on the following Saturday, May 5, while that same night, back at Los Angeles State Historic Park, "Get Out" will screen.
"The Sandlot," "Practical Magic," "The Big Lebowski," and "Casablanca" are all due to pop up around town later in the spring and summer.
As is tradition, live music is part of each night, and so are a multitude of food trucks. Baby's Badass Burgers, Hungry Belly Thai, Oaxaca on Wheels, and Phillyfornia are all rolling in, on various evenings, during the multi-month run.
People do haul in the blankets, and picnics, and yes, "most events are dog friendly," though you'll want make sure the park you're headed to is on the "pups permitted" list (for those that do not allow dogs, check the FAQ).
It's a sure sign of summer, the Street Food Cinema schedule reveal, even as we enter one of the coldest weeks in memory here in Southern California. So stay focused, if you love a flick screened outdoors, on what's still to come in this marvelous match-up of alfresco fun and movie magic.
Copyright FREEL - NBC Local Media