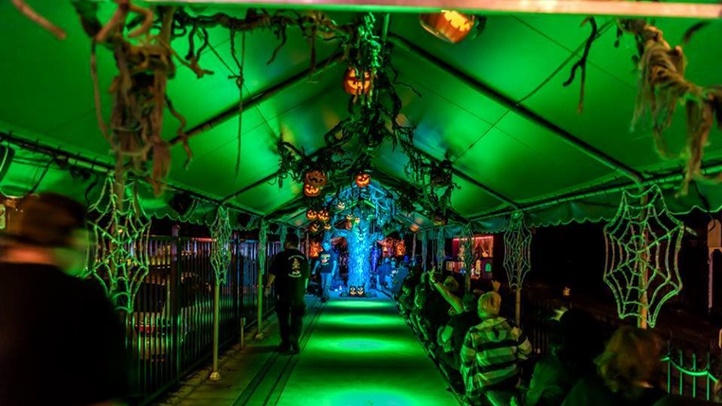 What to Know
Saturday, Sept. 1
Three ticket options, including Express, Advance Purchase, and General Admission
Opens Saturday, Oct. 13, 2018
Summoning a ghost?
Hoo boy.
You're going to really want to think your spirited invitation through beforehand. What's your purpose in asking the phantom to join you? What will you request of the ghostly guest? And what if they're too busy with other otherworld errands to make it?
The Scene
What to do, where to go and what to see
Summoning a Ghost Train?
This is a whole different ball of wax, or make that wax lips, if you truly want to be in the Halloween swing of things. For the Ghost Train, the beloved and oh-so-popular seasonal attraction in Griffith Park, is quite the quirky and family-fun autumn pursuit to undertake.
But how to summon your ride on this fabled track, which is overseen by the LA Live Steamers?
It's far less tricky than summoning a ghost: All you need to do is mark Saturday, Sept. 1 on your calendar, for that's when the 2018 Ghost Train tickets will go on sale.
The Ghost Train announced its new on-sale date on Friday, Aug. 24.
A few must-knows?
The charming rail-based attraction added online tickets in 2017, and they proved so sought-after that a second online ticket choice is swirling into view, like a mysterious mist, in 2018.
In short: Now those Ghost Train buffs who buy ahead can choose Express Tickets or Advance Purchase Tickets. The Express option is $30 plus a fee and will be time-stamped by the half hour, which will help to keep those famous Ghost Train queues shorter.
An Advance Purchase option is $25 plus fee, and should you go this route, you'll be able to enter a separate line outside of the gate, just for advance purchasers. This line will eventually meld into the main line inside the gate, the line with General Admission ticket holders.
And General Admission? It's twenty bucks and all about the walk-up. Meaning you can buy the night of, at the gate, if you decide that afternoon that you're in a Ghost Train-y frame of mind.
Adding to all of this swirling summon-a-spirited-evening magic?
Boney Island, the longtime Sherman Oaks yard haunt that shuttered in 2017 due to crowd and safety issues, will be a neighbor to the Ghost Train in 2018.
Note that the skeleton-filled walk-through will have its own separate ticket, so if you'd like to do both in the same night, you'll need to purchase two entries.
More not-so-dastardly details on the train end of things? All the info on this spooky special event, one of Southern California's enduring and endearing falltime treats?
Visit the Ghost Train, if you dare, on Facebook, to follow all of the ticket updates and need-to-know bits o' info. The chilling choo-choo sets out on its first 2018 run on Saturday, Oct. 13, with several select nights to follow.
Copyright FREEL - NBC Local Media