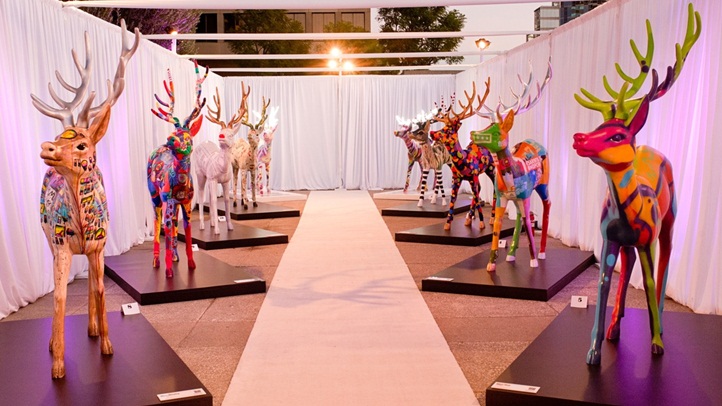 It's a fine sign that a place you're visiting has a healthy amount of whimsy, local pride, and a commitment to community. We're talking about the over-sized animals and figures that are painted and decorated by local artists and then placed around town, both as pleasing art objects and often as money-raisers for an area charity.
We've had angels here in these parts, while other cities have had wild ponies and bears and other symbolic figures. Now Westfield Century City will be home to a number of large and brightly rendered reindeer through Tuesday, Jan. 1.
Aaron Axelrod, Couto Brothers, Max Neutra, and several other SoCal artists have painted and fashioned the acrylic animals in colors that are both holiday-like and vibrant. But the reindeer of The Reindeer Project are not out on display at the shopping center solely to be admired; they'll be raising money for Inner-City Arts.
The Scene
What to do, where to go and what to see
If you're sweet on a particular piece, and you want to help out an important local arts organization, you can place a bid on an artwork. Could it even be a fine holiday gift for a reindeer-loving, philanthropic-minded individual in your life? Indeed. Consider it a pretty one-of-a-kind, big-hearted present.
You can bid here or call Joann Socrates at Inner-City Arts at 213-627-9621 ext. 115 for purchase info. Or just swing by Century City for a little reindeer cheer before the end of the year arrives.
Copyright FREEL - NBC Local Media