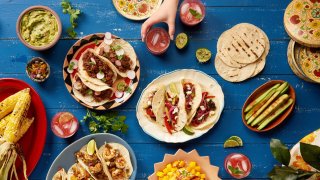 What to Know
Tuesday, May 5
The Great American Takeout, along with Land O'Lakes and Tabasco, will give out 55 restaurant gift cards worth $55 each
You'll need to post a picture of your food order and tag it
Consult any calendar from the past few years, and you'll see that Cinco de Mayo can and does land on any day of the week.
Those Cinco de Mayo Fridays and Saturdays are legendary among some weekend-loving revelers, but taco true-ists know that Tuesday is the best day of the week for the fiesta-focused holiday.
For the second day of the week is better known by its more accepted handle, Taco Tuesday, which is right in line with the sort of delicious foodstuffs we consume come Cinco.
Cinco de Mayo 2020 has, as luck would have it, landed on a Taco Tuesday, meaning you can get your favorite tortilla-wrapped vittles, or another classic Mexican plate, from your go-to restaurants, as long as they're open for delivery or takeout.
And the every-Tuesday Great American Takeout initiative wants to encourage you to do so, by giving away 55 restaurant gift cards worth $55 each.
Yep, "55" is in honor of the date, and Land O'Lakes and Tabasco are the partners on this giveaway-good go-around.
How to enter for a chance at one of those cards?
Simply "... post a picture of yourself raising a taco, burrito, cerveza, or margarita to the camera in recognition of the restaurant employees who are keeping us all fed during these challenging times."
For that's exactly what The Great American Takeout is spotlighting: The food service staffers who are doing so much during the pandemic closures.
Need the tags and information on this salsa-spicy, taco-terrific, share-the-love happening?
Read up on the picante particulars, then order your favorite enchilada, sopapilla, relleno, or, yes, taco, then snap that shot and send it out over the internet waves with the necessary tags.