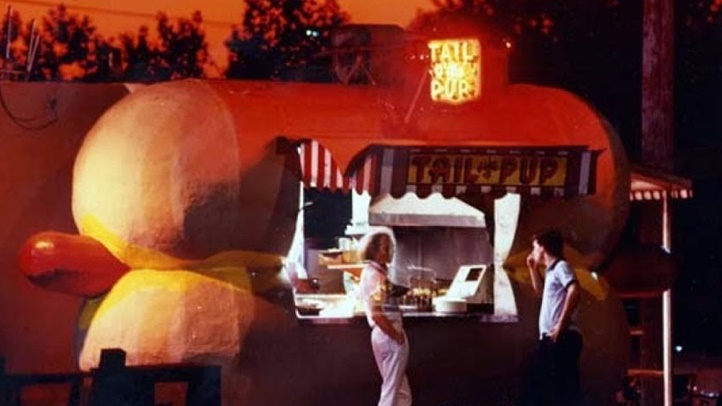 Ever get a hankering for a frankfurter while passing through the nexus of San Vicente and La Cienega Boulevards?
Does the sight of Beverly Boulevard or the Beverly Center make you think you detect a whiff of mustard in the air?
In short: Do you miss Tail O' the Pup?
The Scene
What to do, where to go and what to see
Many Southern Californians ate many, many bite 'n snap hot dogs at the iconic West Hollywood stand, a beloved business that found longtime homes on both La Cienega and San Vicente. But new construction unrelated to the stand sent the Pup into storage in Torrance, and then to Nevada, for a spot on a cable program (perhaps you saw it sailing down the 405 a few years back).
And while a new Tail O' the Pup made a food truck debut in 2016 on La Cienega, complete with the old-school frankfurters in tow, many fans wondered where they could see the Milton Black-designed programmatic building, the one shaped like a big ol' bun, the one that remains as symbolic of LA as the Hollywood Sign and swimming pools.
Here's the happy answer: The Tail O' the Pup will soon take up permanent residence at the Valley Relics Museum.
Jay and Nicole Miller donated the stand to the SoCal pop culture institution, a locally minded museum founded by Tommy Gelinas in 2013.
Mr. Miller is the grandson of Eddie Blake, a former owner of Tail O' the Pup.
"After years of preservation and storage of the iconic Los Angeles landmark, we have found the perfect home for Tail O' the Pup," read a statement from the Millers. "Building codes have made it unrealistic to use the iconic building in future locations which led us to seek out Tommy Gelinas at Valley Relics Museum."
"Tommy has generously agreed to restore the landmark and put it on display for fans to enjoy," concluded the Millers' statement.
To see the built-in-1946, huge hot dog of a building, well... you'll need to hold your horses for just a bit longer, as Mr. Gelinas will be busy performing restoration work on the stand.
But once it is officially on view, you'll only need to visit Valley Relics Museum in Chatsworth on a Saturday to commune with the Pup. That's the weekly open day for the treasure-packed vault, a spot that includes a host of signage, retro-cool cars, and other known-to-SoCalers finds, throughout the sizable space.
Though the historic stand won't be serving hot dogs, once it is on view, you can find Tail O' the Pup food today, at temporary pop-ups as well as future, down-the-road permanent eateries.
Kevin Michaels and Brett Doherty of Killer Shrimp and Hamburger Hamlet are working with Jay and Nicole Miller to bring more hot-doggery to more places around Southern California in the years to come.
Copyright FREEL - NBC Local Media