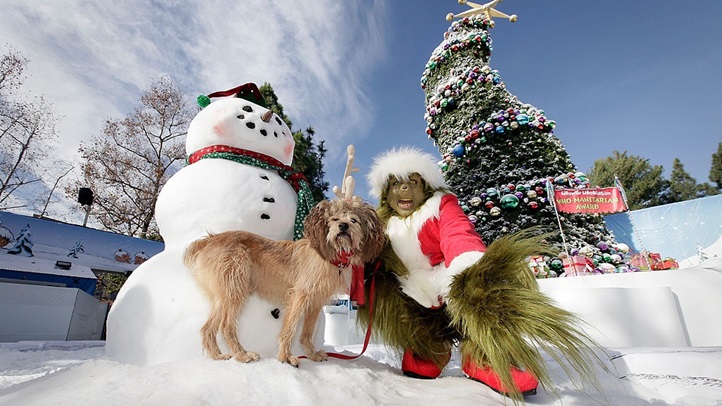 What to Know
Opens Saturday, Dec. 1
Select December dates
Included with park admission
Credit one Theodor Geisel with creating many imaginative marvels and wonders and an almost incalculable amount of happy things.
But here's an especially happy thing about 1957's "How the Grinch Stole Christmas!," arguably one of the most well-known of Mr. Geisel's many impish, brainish books.
Er, make that Dr. Seuss, of course, the moniker Mr. Geisel blithely wrote and illustrated under.
The Scene
What to do, where to go and what to see
And that happy thing? The name of the Grinch's wet-nosed, tail-wagging companion: Max.
For if ever a tail, er, a tale earned the meaning of "max," as in taking emotion and drama and fun to the ultimate limit, it is this cheerful window into the world of Whos, roast beasts, and the cranky resident of Mt. Crumpit.
Universal Studios Hollywood understands the idea of max-a-tude, every day of the year, but especially when Grinchmas sassily saunters into theme park.
For everything is fully max'd at the park's over-the-top, December-dazzling, meet-the-Grinch gathering, a holiday happening that really does... push it... to the max.
And that max-ness will be in full, green flower beginning on Saturday, Dec. 1 when the Grinch, Max, and a host of Whoville residents pop up to sing, dance, josh, joke, pose for photos, and send a Seussian splash of seasonal magic into the lives of park guests.
There's that twisty and tall tree, too, that looks as if it grew in soil fortified with Seuss-style magic.
Grinchmas, which has become a yuk-packed yuletide staple at the Universal City destination, along with Christmas in the Wizarding World, will pop up over several select December dates, and starting on Dec. 14? It'll run all the way to New Year's Eve Eve.
Which, in Whoville, they say, is also known as Dec. 30.
Park admission gets you into all of this green-tastic gaiety. Feeling the Max-tastic merriment?
Then take it to the max, and call upon Mt. Crumpit — er, Universal Studios Hollywood — when the green (former) meanie sets up talky shop, all to add a more vivacious and vinegary dimension to our most sugar-sweet month.
Universal Studios Hollywood and NBC-owned TV stations operate under the same parent company NBCUniversal.
Copyright FREEL - NBC Local Media