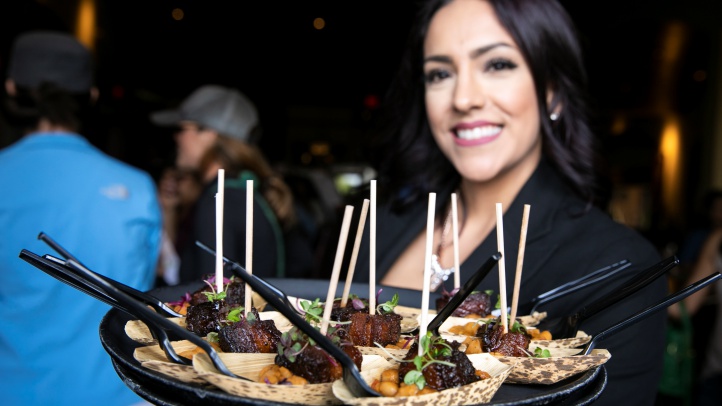 We say "Halloween food" and you say "little candy bars."
We again say "Halloween food" and you call out "bigger candy bars."
We speak the words "Halloween food" again and you sing about lollipops, and taffy, and gummy bears, and candy corn, and dozens of other sugary delectables.
The Scene
What to do, where to go and what to see
And we don't blame you one bit. For few holidays are as braided with a specific type of foodstuff as the one that haunts the end of October. Yep, it's all about the confections that so easily fit inside, and fill, a plastic pumpkin.
But places like The District at Tustin Legacy may help to change Halloween's rep as a candy-centric occasion. Look to the Creepy Crawl, an afternoon stroll that is about, yes, trying dessert bites, but also the savory tastes available at the shopping center, too.
The delish date is Saturday, Oct. 27, and the daylight, before-dark hours mean that you can make the pre-Halloween party at your friend's place on Saturday night. (Or, indeed, get back to your own pajamas, and TV screen, for a horror flick.)
The Creepy Crawl crawls from 2 to 5 p.m., a ticket is $30, the Boys + Girls Club of Tustin is the beneficiary, and lots of area eateries are participating, including Ben & Jerry's, Mobtown Pizza, and The Auld Dubliner.
In addition to tastes and sips at various restaurants, look for live entertainment, "Halloween games and unique in-store activities," and "ghoulish guests" available for frightful photo opps.
You might think of it sort of like trick-or-treating, but for grown-ups, in the afternoon, four days ahead of Halloween, at a restaurant-filled shopping destination.
Toodling by Tustin? Costume up, you like, on the 27th, then spend three hours tasting around The District.
And no hard feelings, candy. You still rule Halloween, and we'll always be suckers for your chewy, gooey charms.
Copyright FREEL - NBC Local Media