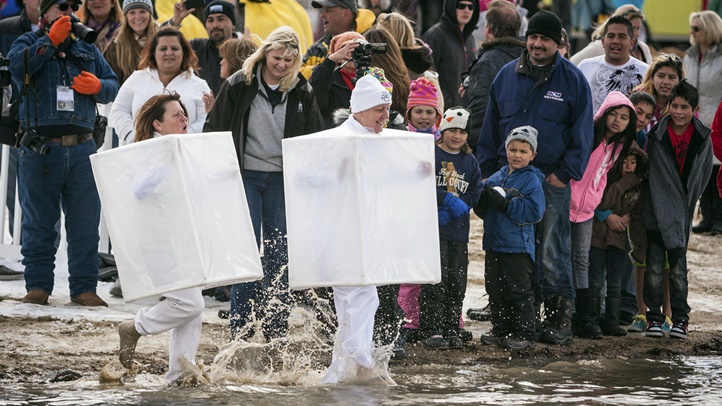 What to Know
Saturday, March 3
Special Olympics Inland Empire fundraiser
$50 minimum to join
Whether or not March will indeed arrive like a lion, as legend says it has a way of doing, still remains to be seen.
What we do, know, is that the middle of February, and, yes, the end, arrived in Southern California like a creature that hails from a very cold place, say, like an Arctic hare or a musk ox or a narwhal.
True, our region, at least around the lower lands, hasn't been as freezing as a traditionally cold place, but some wintry blasts have chilled things out immensely.
The Scene
What to do, where to go and what to see
Which means, of course, that it is time to run directly into Big Bear Lake, at full speed, bravely, while laughing, or keeping calm and gritting your teeth against the bracing waves.
So find your inner lion on Saturday, March 3 as the Big Bear Polar Plunge returns to give support and the spotlight to a terrific organization: Special Olympics Inland Empire.
It's $50 to join, though you're free to raise more money. You can also raise money or donate to "Support a Plunger" if you opt not to wade into Big Bear Lake, which sits at an elevation of 6,752 feet.
Make that 6,752 frosty feet, for the famous lake gets more than a mite frosty as wintertime comes to its cold close. And that several inches of snow fell in the area on Tuesday, Feb. 27 only ups the frosty factor.
You can just make a straight-up "I'm too chicken to plunge" donation, and you'll receive a t-shirt to show you care. No shame in your game, either: Either you're up for the frigid water or you're not.
There's some other stuff to know, and ways to go, but the heart of it is this: You'll be giving love to the Special Olympics.
The plunge happens at high noon, so maybe it won't be too icy out. If you're in town on Friday night, March 2, there's a pre-registration bash at The Cave.
You'll probably want to think about a costume, which is not, repeat, not required, but many plungers don superhero capes, full-on banana get-ups, and, yes, wearable squares that suggest ice cubes, which seems highly fitting.
In like a lion? March may arrive that way, but February has already given us some penguin-style brrrs, when it comes to animal-weather sayings.
Making the Big Bear Polar Plunge especially brisk in 2018, for those brave enough, and big-hearted enough, too, to sign up.
Copyright FREEL - NBC Local Media