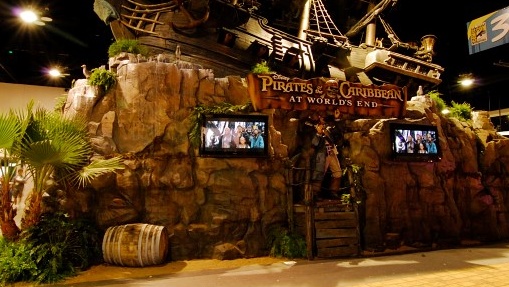 Talking like a pirate?
Throwing a couple of "arrrrr"-type interjections and a "matey" or two and you're halfway there. If you know a sea shanty? Then consider yourself a master of the artform.
Or, we mean, the arrrrrtform.
The Scene
What to do, where to go and what to see
Tuesday, Sept. 19 is Talk Like a Pirate Day, and even if you don't have a parrot pal, the kind of chatty co-observer who can sit on your shoulder all day as you go about your work and errands, you can still bellow "thar she blows!" at various sights, like the stoplight finally turning green at that one busy intersection on your way home.
If you're near Santa Monica Pier on Sept. 19, at the beach, around the northwest corner of Parking Lot 1, you'll spy more pirate-y high jinks: Disney's "Pirates of the Caribbean: Dead Men Tell No Tales" debuts on digital on Sept. 19, and, to celebrate the movie-tastic moment, The Black Pearl will magically appear not far from the sand.
Well, hold up: It's a replica of the famous "Pirates of the Caribbean" ship, and not to scale, standing at 1/3 of the size of the film boat. You may see roaming pirates in costume, and sea-worthy happenings in the vicinity of the replica.
And there's a photo area if you want to snap a picture of the Pearl to share with your pirate-talkin' buds.
Should you desire the rollicking cinematic adventure on Blu-ray, hold onto your tri-corner hat: The debut date is set for Tuesday, Oct. 3.
Copyright FREEL - NBC Local Media