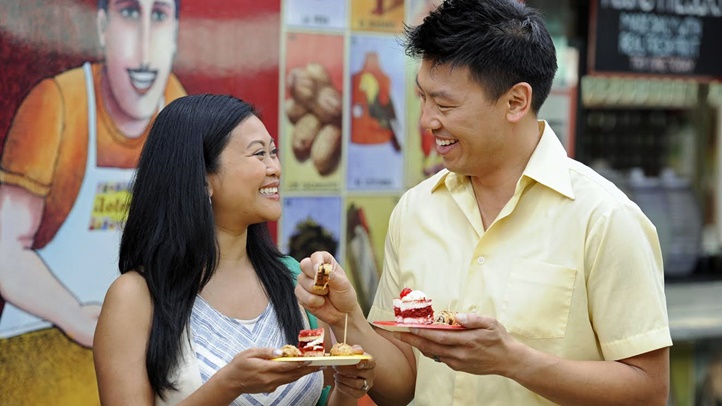 If you've ever compared yourself to "a kid in a candy store," you were using a popular phrase to sum up the feeling of being thoroughly surrounded by a wondrous amount of good stuff, so much good stuff that you might feel deliciously overwhelmed by it all.
That's a feeling that's very much in the air on a particular July Tuesday each year, right around Third & Fairfax, when the Original Farmers Market hosts its annual snack-around festival, Taste of Farmers Market.
And while you won't be in a candy store, you will be near candy stores, as there are actual sweet shops within the market, as well as a luscious line-up of eateries and groceries around the stall-lined, awning-nostalgic spot.
The Scene
What to do, where to go and what to see
This means you can have your cake, and eat it, too, along with a shrimp, an empanada, a slider, or whatever else the restaurants choose to serve at the Tuesday, July 18 event. Your $35 entry, or $40 at the door, means you'll be able to try "(o)ver 50 tastes from your favorite Market merchants," as well as Firehouse Chili created by special guests from the firehouse down the way.
Oh yes, there will be a firetruck right there, at the landmark, if you want to snap a few photographs. And Wilshire the Fire Dog, that adorable Dalmatian, has cleared his schedule to pay the public market a visit.
And, of course, firefighters'll be at the ready, open to meeting and greeting, and, just maybe, divulging some of the secrets of Firehouse Chili. (But, honestly, don't you want it to stay a tasty, closely held secret? That's part of its flavor.)
It's a kid-fun event, too, and a child's ticket is ten bucks, which equals ten tastes for children ages 10 and younger.
Will you favorite stall be serving tidbits of your favorite dish? Or will you get to try something completely new to you?
And did you know that July is the birthday month of the beloved Original Farmers Market? It is turning 83, which translates into millions of bites, tastes, and sips over the decades enjoyed by oodles of happy locals and visitors.
To savor 50 more, or so, at Taste of Farmers Market, feels flush with birthday-style cheer, the kind of cheer that the gathering place has been known for since way and back and when.
Like a kid in a candy store, indeed. Or like a Farmers Market fan at Farmers Market on the night when there are dozens of tastes to try.
Copyright FREEL - NBC Local Media