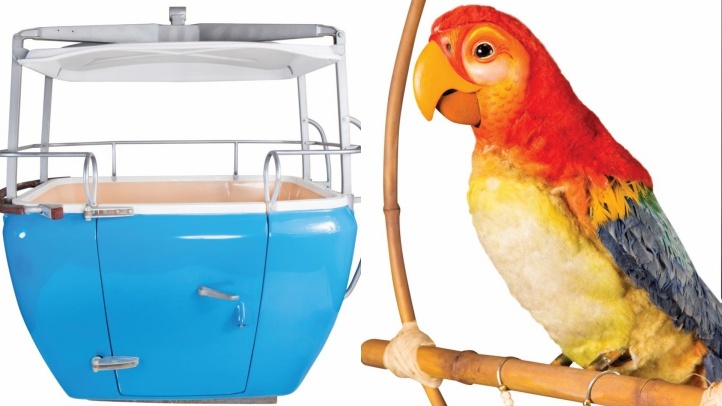 What to Know
900+ items
A free, open-to-the-public exhibit ran for much of August in Sherman Oaks
The auction took place on Aug. 25 and 26 at Van Eaton Galleries
Walt Disney famously referred to various visual elements around his theme park as "weenies," as in those attractions or sights or points of interest that kept the public engaged (the nickname hailed from how Mr. Disney's dog would faithfully follow him if he possessed a meaty hot dog treat and his pup knew it).
How, though, to properly describe an auction full of hundreds of such visually compelling Disneyland-iconic sights, the sort of items that almost need no introduction, or description, to a Disney devotee?
You can call it by its name: That's From Disneyland!, a jaw-dropping collection of fantabulous Happiest Place on Earth artifacts amassed by agent Richard Kraft.
The Scene
What to do, where to go and what to see
And that collection went to the auction block at Van Eaton Galleries over the final weekend of August 2018, following a free, multi-week public exhibit in Sherman Oaks.
The end result? The 900+ items saw some truly Matterhorn-big sales.
The giant red D, that once was part of the Disneyland Hotel sign? Magician David Copperfield was the top bidder, at $86,250. A Van Eaton representative says that "Copperfield said that he bought the famous 'D' because it was where his family would often stay and he was inspired to become a magician."
Other notable numbers from the auction, which rang in for a total of over $8,300,000 by the final gavel?
José Animatronic Bird from The Enchanted Tiki Room: $425,500
Skyway Original Vehicle: $621,000
Dumbo Attraction Vehicle: $483,000
An Original Haunted Mansion Stretching Portrait: $402,500
Autopia Original Attraction Poster: $287,500
Pirates of the Caribbean Entryway Sign: $264,500
The Skyway vehicle "... broke the record for the highest price ever paid for a Disneyland ride vehicle," while the Autopia poster and Pirates sign surpassed the previous high amounts in the poster and park sign categories, respectively.
As for Mr. Kraft, an agent who has represented such musical Disney legends as Richard Sherman? He played quite the merry host throughout the exhibit, even presiding over a wedding ceremony.
Some of the proceeds from the auction will benefit the Coffin-Siris Syndrome Foundation and the CHIME Institute, two organizations dear to Mr. Kraft's heart.
"For 25 years, I collected with absolutely no intention of seeing it as an investment or acquiring things to sell," said Mr. Kraft. "It has been purely for the joy of connecting to so many personal memories of the Happiest Place on Earth."
"When I finally decided to let it go it became much more about throwing a grand Bon Voyage party to those magical artifacts than about making projections about their worth."
Mr. Kraft continued: "As the flood of astronomical bids came in, it made me think how these treasures were now securing the financial future of my children, and allowing me to contribute towards other kids like my daughter with special needs."
It was quite the party for the thousands who visited the "That's From Disneyland!" exhibit, for free, ahead of the auction.
Experiencing these whimsical wonders — or "weenies," if you will — in person proved to be one of the hits of the late summer for the many Disney fans who hailed both from Southern California and points far beyond.
"I'm still in a state of shock that Dumbo, José the talking parrot, and trash cans from Disneyland could make me feel as though I'd won the lottery," concluded Mr. Kraft. "And who knew metal parking lot signs would become the new bitcoin!"
Eager to look back or learn more? Visit the Van Eaton Galleries site now.
Copyright FREEL - NBC Local Media