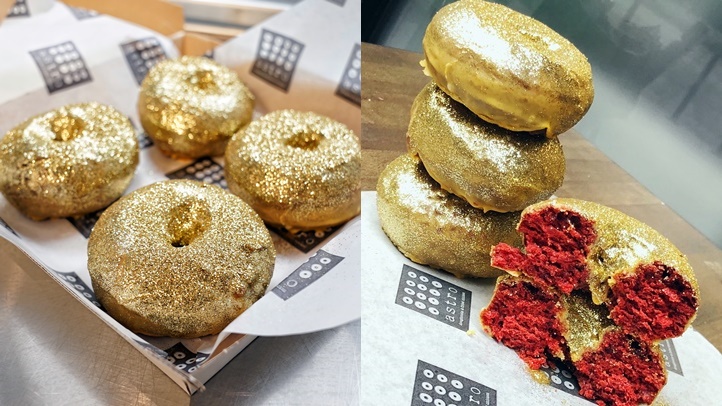 What to Know
Through March 4
Downtown shop
Pre-orders available now; the doughnuts will be available in-shop on Oscar weekend.
Is there a giant, stadium-sized vat of edible golden glitter that is towed to the edge of Los Angeles County line each February? A vat that sits awaiting all of the restaurants and parties that will require sparkly toppings for the desserts that'll be served during the Academy Awards season?
For it isn't just at the Governors Ball, the starry party that pops up after the Oscars, where one can see foodstuffs that look as though they came wholly formed from the nearest gem or jewelry store.
Golden goodies lavishly rule the late-winter run-up to the celebrated ceremony, and finding a treat shop that's making the photo-perfect noshables, rather than having to load up on edible glitter yourself, is a route a number of people are seeking.
The Scene
What to do, where to go and what to see
Especially, of course, if they're planning on hosting a home party or showing up with sweets for the Oscar office pool.
Astro Doughnuts & Fried Chicken has plunged into the golden grub scene in 2018, and the result? The Red Carpet Doughnut, a five-dollar red velvet confection that is the color of its namesake on the inside and as golden as an Oscar on the outside.
Nom, nom, and nom.
You can order the nom-able doughnuts in advance, or, if you're near the downtown shop over Oscar weekend — that's Saturday, March 3 and Sunday, March 4 — they've vowed to have them in stock and ready to buy.
A couple of observations? Doughnuts and LA have a long history, so there should be Oscar-themed doughnuts, flat-out, end of story. Two? A doughnut makes a perfect capital "O," if you're looking to spell out the word "Oscar" on a dessert table.
And three? If there really is a vat of golden edible glitter sitting somewhere near LA, come Oscar season, clearly it isn't enough, for more vittles should go the vivacious and sparkly route as some of the darkest days of the year give way to spring.
Copyright FREEL - NBC Local Media