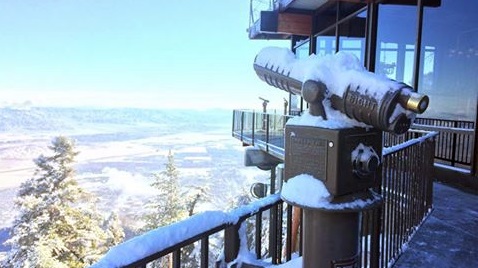 What to Know
Palm Springs Aerial Tramway
Snow-guessing contest opened on Oct. 1, 2018
An inch of snow was measured at the tram's Mountain Station on Nov. 29
There can be a lot of guesswork when it comes to snowfall.
Do I need my heavy mittens or will a pair of light gloves suffice? Should I go beanie or wear a hat with earflaps?
And, by gosh, when will an inch of snow fall at Mountain Station, the upper terminus of the Palm Springs Aerial Tramway?
The Scene
What to do, where to go and what to see
That last question sends plenty of locals into a dizzy tizzy each year, as they try to surmise when enough flakes'll pile up at the high-elevation structure, which sits just above 8,500 feet.
But no more tizzying is required for 2018, for the contest ended on Nov. 29, when, yes, an inch of snow was measured at Mountain Station.
Measured precisely at 1:27 p.m., if you're curious.
The contest, which opens each year on the first of October, involves guessers sending the historic tram postcards detailing what date they think an inch of the frosty white stuff'll accumulate at Mountain Station.
The first ten postcards received naming the right date are the winners.
And those winners get some ice, we mean nice things, like four admissions to the mid-century tram.
Oh yes, plus a tram-themed snowglobe, to remind the winners of their coldly won victory.
"Coldly won" is said in the warmest sense, of course. Because if you can predict, weeks out, that snow will fall and pile up in a particular place, on a particular date, well, news flash: You just might be your own walking almanac.
Or at least a possessor of a nose for winter, one that could rival Jack Frost's.
Are you among the 2019 snow pros? The Palm Springs Aerial Tramway shared the winner list on Facebook, so have a look now.
Copyright FREEL - NBC Local Media