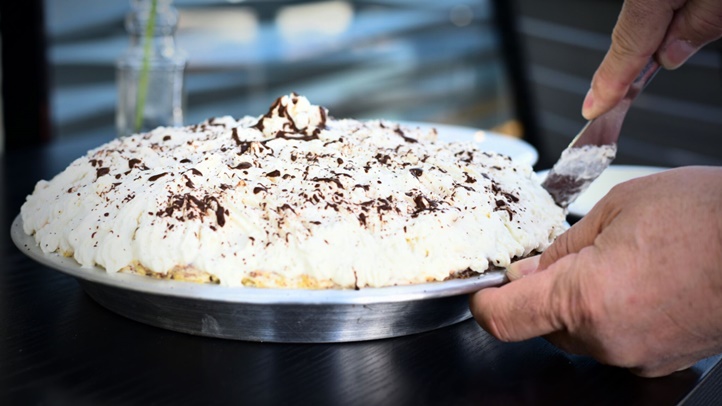 What to Know
Banana cream pie
One lucky guest gets to take the treat home each week
Margo's, Art's Table, Ashland Hill, The OP Café
You woke up, on March 2, to two things, quite surely.
One? The knowledge that the much-talked-about rainstorm had arrived. Or, yes, snowstorm, if you're currently at a higher elevation.
And two? It's National Banana Cream Pie Day, as it is every March 2, whether that March 2 is rainy or not.
The Scene
What to do, where to go and what to see
Call it a very dependable and hearty treat for a damp day, if you're seeking out comfort food, and call it a classic that's weathered dessert-based trends over the decades.
That said, the sweet stalwart doesn't often appear on restaurant menus, but it was formerly a favorite at Cafe Montana and Babalu, in Santa Monica, back in the day.
And if you know your changing eateries in the area, you know that those spots are now Margo's and Art's Table, restaurants overseen by On the Verge Hospitality.
Often, though, when new companies take over restaurants, classic dishes vamoose, and searching for them on the menu is an exercise best not undertaken.
But On the Verge heard that guests missed the banana cream pie from Cafe Montana and Babulu, and, in response, created The Pie You Can't Buy.
You really can't purchase it, but you might go home with a whole pie, for free, should you dine at Art's Table, Margo's, The OP Café, or Ashland Hill. For one "unsuspecting guest," each and every week, is now presented with The Pie You Can't Buy at those four restaurants.
It's a treat you won't eat there, nope. You'll enjoy it later on, in your own kitchen or dining room, as you bask in the knowledge that you scored The Pie You Can't Buy, just by dining at the right moment in one of the four aforementioned restaurants.
Mark Verge, the founder of On the Verge Hospitality, brought the goodie back, in this offbeat giveaway form, after hearing that diners of the now-shuttered restaurants had missed it.
How to become that lucky diner, though, who nabs a complimentary Banana Cream Pie?
That's a sticky wicket, as sticky as a gooey pie slice.
Dining often at the four eateries may eventually place you in the winner's seat, one day, or not. Either way, simply knowing there is an un-buy-able pie out there, in Santa Monica, right now, must surely pique the interest of pie-obsessed people of greater Southern California, and banana cream pie enthusiasts everywhere.
Copyright FREEL - NBC Local Media