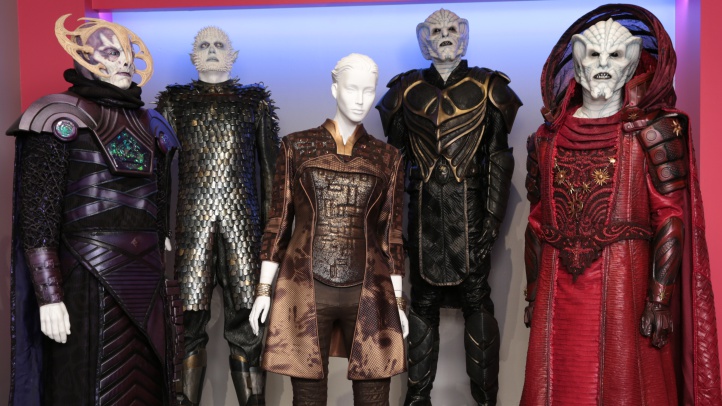 TV Costume Exhibit: If fall is on approach, and September is near, and the Emmys are just ahead, it must mean it is time again for the Fashion Institute of Design & Merchandising's free-to-see exhibit, "The 12th Outstanding Art of Television Costume Design." Snazzy looks from a host of hot shows, from "GLOW" to "The Orville" to "The Crown" to "Westworld," will all be on display from Aug. 21 through Oct. 6, 2018. Note that the FIDM gallery, which is in DTLA, is open Tuesdays through Saturdays.
Hello Kitty Night at Dodger Stadium: So you can often be found with a baseball in your hand and a bow on your head? Then you just might be a devotee of both the Dodgers and a certain bow-rocking Sanrio icon. How, though, to combine both of your affections? By heading to the stadium on Tuesday, Aug. 21 for Hello Kitty Night. You're right, this is the second Hello Kitty go-around of the season at the stadium — she's just that popular — and there are goodies if you go with a Hello Kitty Ticket Pack, like a Hello Kitty x Dodgers drawstring tote bag.
The Evolution of Puppetry: You adore puppets, and you know just how they work, from the strings to mouth movements. but you've never gotten the opportunity to hear behind-the-scenes tales from one of the titans in the industry, sigh. That can all be delightfully remedied on Tuesday, Aug. 21 when Brian Henson stops by the Skirball Cultural Center to share an inside look at the art of puppet magic. Also note that the exhibit celebrating the life and career of Brian's dad, Mr. Jim Henson, is on view for just under two more weeks at the center, too.
The Scene
What to do, where to go and what to see
Los Angeles Food & Wine Festival: You've been wanting to try the appetizers created by this one lauded chef, or the dessert that another local chef is known for, but doing so in one fell, flavorful swoop is proving a little challenging. This mondo, multi-venue event can help out on that front, as it gives area foodies the chance to dine out among some of the top names in the cuisine biz. Plus? The Lexus Grand Tasting on Aug. 25 and 26 definitely deserves its "grand" designation. Aug. 22-26
"Best in Show" Screening: Haven't truly celebrated the Dog Days of Summer? There's still time to do so, and you don't need to pay the equivalent of a diamond-laden collar or fancy leash. In fact, just trot your way to the Hammer Museum, in Westwood, for a free screening of Christopher Guest's funny Fido flick, a movie that celebrates competitive dog showing (and all of the characters it understandably attracts). When should you give a woof? On Wednesday, Aug. 22, which, yes, is still part of the actual Dog Days of Summer.
Copyright FREEL - NBC Local Media