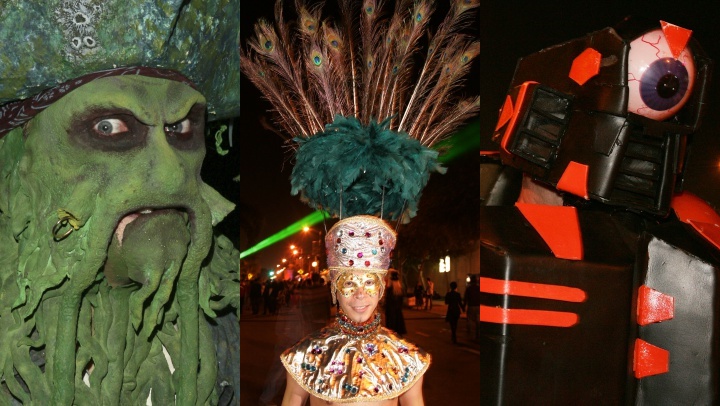 West Hollywood Halloween Carnaval: Having to phone a half million people, all to tell them to meet you on Santa Monica Boulevard between La Cienega Boulevard and Doheny Drive? That's time-consuming, so thank goodness that this annual Halloween night spectacular is already known far, wide, and even further beyond. Thousands of revelers show in elaborate, cheeky, and often adult'd-up costumes at the free parade, one that sees musical entertainment, DJs, the opportunity to shake your stuff, and places to buy eats/drinks. The hours? Be there from 6 to 10:30 p.m., paraders o' Halloween.
"The Shining" on the Big Screen: All Hallows Eve is famously frightful, but what of All Hallows Eve Eve? That's Oct. 30, yes, and The Wiltern will greet the ghoulish evening with the most haunted hotel ever: The Overlook. In fact, the Art Deco landmark makes an ideal place to see the Stanley Kubrick classic, which details one very, very, very long winter in the mountains. Danny may not be here, Mrs. Torrance, but "The Shining" revs up the Sno-Cat at 7 p.m. (well, that's when doors open). Costumes? They're welcome, but peruse the asterisks.
"American Horror Story" style: Find yourself swooning over the stylish ensembles of the latest iteration of the hit horror TV series? A conversation-filled evening devoted to these outfits is on tap on Tuesday, Oct. 30, and a ticket is free. The Style of Scare! with American Horror Story: Apocalypse is the name of the to-do, which features costume designers Lou Eyrich and Paula Bradley of the show (and actors Leslie Grossman and Cody Fern). Best RSVP, even though it is free, and arrive early for the 6:30 p.m. start. The diabolical details are at this page, where you can also register.
The Scene
What to do, where to go and what to see
Movember opens: The first day of November isn't just about packing away your costume for the year; you'll want to get a clean shave, if you're planning on participating in this annual fundraiser for men's health. After your Nov. 1 shave? You'll grow a mustache, all month long. You can shave at home, if you like, or join a shaving event. There's a Shave the Date to-do at the Movember Foundation Barbershop in Culver City, or you can find another happening closer to home or work. Are you ready to grow, and grow this great cause, too, as you do? Mustache-growing dudes and Mo Sista, begin here.
Freddie Mercury Look-Alike Contest: The majesty that is and forever will be Mr. Mercury is celebrated in countless ways by the fans, from replaying videos to t-shirts bearing his image to gathering groups to see "Bohemian Rhapsody" when it opens on Nov. 2. It is headed for the TCL Chinese Theatre, but, before that date, there's a look-alike contest in the landmark's forecourt on Thursday, Nov. 1 at noon. Will you don your favorite Freddie stage wear, all to pay tribute a man who lifted so many souls with his sensational outlook and spirited songs? Be at the Tinseltown theater at noon on Nov. 1.
Copyright FREEL - NBC Local Media