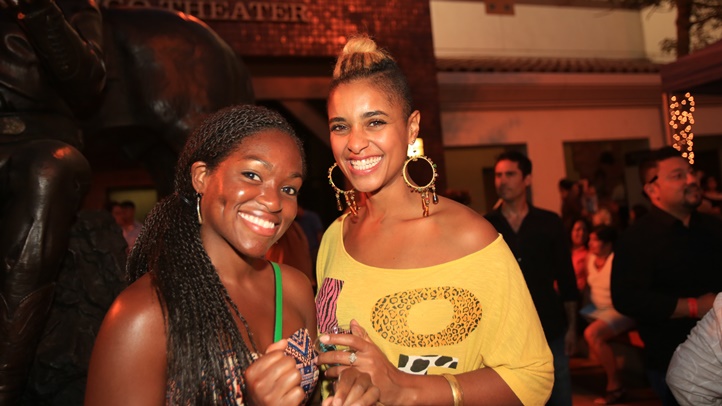 Autry After Hours: With these brighter evenings and longer days, your thoughts may be turning to enjoying Griffith Park, and its many attractions and peaceful spots, as the sun goes down. The Autry Museum of the American West is jumping into this sweet time with a brand-new series called Autry After Hours. "Poetry, music, and art" are some of the focuses of the happening, which will include DJs, site-specific performances, and a chance to get creative on your own project. Be there on Wednesday, April 11, pay five bucks, and join in this big-of-mind, soaring-of-spirit soirée.
Free Cone Day: It's almost like Ben & Jerry's knew that Tuesday, April 10 would be especially toasty around Southern California. The famous goodie giveaway is nearly four decades along, meaning a whole lot of ice cream-loving cone-seeking people'll be out for their pay-nothing treat on Free Cone Day, so expect a healthy to super-healthy queue, whatever shop you call upon. But, hey, that's part of the fun, as is picking out the fanciful flavor you want. Need to locate your most local of Scoop Shops? Here's where to napkin-up and lick away.
Happy 25th, "Groundhog Day": If you've ever felt like you're living the same day over, and over, and over, and over, and over, and over again, then you likely get some of the stress and befuddlement of Bill Murray's crotchety weatherman in this comedy classic. The Academy of Motion Picture Arts and Sciences is revisiting the film on Monday, April 9 in honor of its first quarter century, and several major behind-the-scenes-ers will be Q&A-ing, including screenwriter Danny Rubin and actor Stephen Tobolowsky. A ticket is five bucks, which may send you, in your mind, right back to 1993.
The Scene
What to do, where to go and what to see
"Love Never Dies": Swept away by Andrew Lloyd Webber's "Phantom of the Opera"? Here's the sequel, one that's festooned with dramatic songs, lavish costumes, and those gorgeously gothic sets that fans have come to swoon over. It's on at the Hollywood Pantages through Sunday, April 22, so don't linger too long. As for the setting of this show? Look not beneath the streets of Paris but rather to Coney Island, in New York, where the elegantly drawn action takes place.
"Grease" on the Big Screen: Your pink satin jacket is looking mighty nice and that T-Bird you've been restoring? The fenders couldn't be gleamier. Best don your favorite wearble, hop into your souped-up vehicle, and find a theater showing this sassy, song-famous musical on the big screen. Several cinemas are, as part of the film's big 40th anniversary. Fathom Events is behind the showings, which will dance on April 11 and 14 at select cinemas. Unhand that comb, and that bottle of relish, and your curler set, too, and find where the movie is playing near you.
Copyright FREEL - NBC Local Media