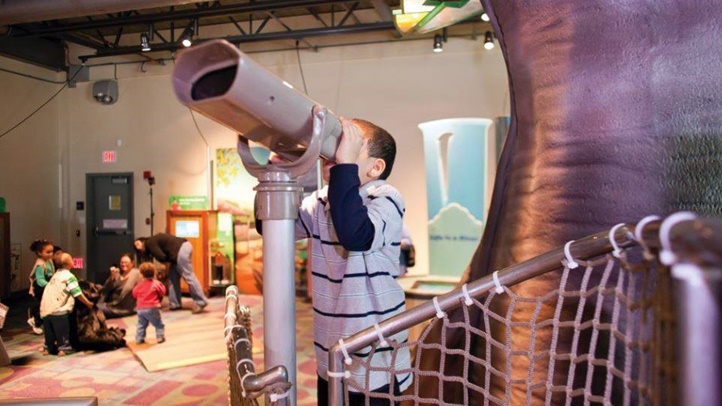 Rainforest Adventure: Knowing more about the birds, critters, ecology, and science of some of the lushest spots on the planet? It's a calling that all earthlings can embrace, especially since our rainforests are so vitally important. If you can't swing by a rainforest, though, this week, the Discovery Cube in Santa Ana might be more within your range. Lucky, then, that the Rainforest Adventure recently opened, and, with it, oodles of kid-cool exhibits about conservation, study, and more. Gorilla nests, insect building, and more await, daily in Orange County.
Presidents Day: Eating cherry pie and meeting the presidents seen on Mount Rushmore National Memorial? That's happening at the Nixon Library & Museum in Yorba Linda on Monday, Feb. 19 (just be one of the first 1,000 people there for your free slice). The Reagan Library in Simi Valley is also welcoming the same quartet of past presidents, with other family to-dos on the roster. And at LACMA on Feb. 19? It's a Target Free Holiday Monday, with free tunes from the California Feetwarmers.
Jasper Johns: The chance to eye a comprehensive span of a celebrated artist's work doesn't come around every day, or even every year, but "Six Decades of Artwork by an Iconic American Artist" can now by enjoyed by visiting The Broad. "Jasper Johns: Something Resembling Truth" is on view through May 13, 2018, and it includes "more than 120 extraordinary paintings, sculptures, prints and drawings by one of America's greatest artists." Tickets? Info? Yes.
The Scene
What to do, where to go and what to see
"The Philadelphia Story": Finding one of the seminal romantic comedies on the big screen? It isn't always easy, even in Los Angeles, where bygone gems can return, time and again. But Fathom Events, along with Turner Classic Movies, is bringing the classic back on Wednesday, Feb. 21. Katherine Hepburn, Cary Grant, and Jimmy Stewart star in the zingy, banterful story, which opens on the eve of a wedding. But will the nuptials take place? Find a theater and revisit the famous flick again.
San Diego Bird Festival: So you participated in the Great Backyard Bird Count over the long holiday weekend, but you long for more ornithological inspiration, information, and fun? There's this multi-day to-do, which opens on Wednesday, Feb. 21 at the Marina Village Conference Center. Jump on a pelagic trip, shop cool bird-watching tools at the expo, and hear from pros on all matters of the avian world. It flaps, fabulously, through Sunday, Feb. 25.
Copyright FREEL - NBC Local Media