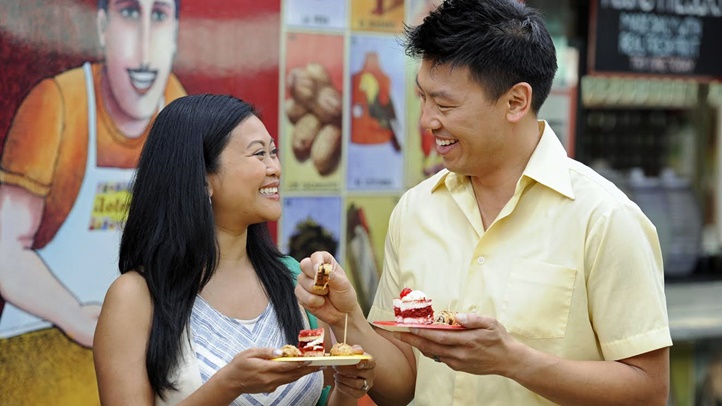 What to Know
Tuesday, July 24
Third & Fairfax
$35 (early bird), $40 (advance), $45 (day of)
Taste of Farmers Market: So you know the eateries of the landmark public market, the one that's been at Third & Fairfax since 1934, like the back of your hand? A hand that may have been recently holding toffee from Littlejohn's, a doughnut from Bob's, or a burger from Phil's? Then you know about one of the greatest events of the year. Pay one price and snack from samples from every vendor at the market at this festive, once-a-year to-do, which sizzles/bakes/tempts/delights on Tuesday, July 24.
Sunset Concerts at the Skirball: The notion of spending Friday Eve — that would be Thursday night, of course — at the beautiful campus just off the 405, near Mulholland, is a nice notion, in all the ways. The thought that there would be music, though, by some of the most scintillating performers today is extra nice. And that these concerts are free? Oh goodness, that is as lovely as a sunset on a not-too-hot July night. The beloved and well-attended series opens on Thursday, July 26 with Goapele, but there are several more music-lush Thursdays to come, with a variety of performers. Last Thursday of the 2018 season? It's Aug. 30.
Moves After Dark: Site-specific performances can be some of the most exciting, mind-expanding treats out there. After all, watching a dance leap in a place that typically is not a setting for dance can inspire the viewer to think of larger issues, like what makes a performance venue and why a stage is the traditional spot for these sorts of events. The Music Center is the place, Tuesday, July 24 is the first night (there are a few more select nights beyond opening night), and "three female-led, Los Angeles-based contemporary dance companies" will captivate in "non-traditional performances."
The Scene
What to do, where to go and what to see
Rooftop Cinema: The season for watching movies under the stars continues, and while summer still has two months to go, don't dally if you're going to take a seat for a cinematic, open-air treat. Coming up at this classic warm-weather must in the days ahead, either in Hollywood or DTLA? "City of God," "Breakfast at Tiffany's," "Pretty in Pink," "Sister Act," and "Isle of Dogs." Just check the schedule to make sure when and where the movie you'd like to watch is playing. Tickets/info/good stuff? Here.
dineLA Restaurant Week: We're in the last, go-now, time's-fleeting, jump-to-it days of the summer version for this huge and expansive and loved and huge (we said that already, but mean it) foodie event, which takes its last bow on Friday, July 27. Not forever — it'll be back, of course — but its return is months away. So find your deal, your prix fixe dinner, a new café you love, and support a restaurant, or two, or more. There are nearly 400 to choose from, which is "wow"-inducing as a really beautifully presented dessert or fancy appetizer.
Copyright FREEL - NBC Local Media