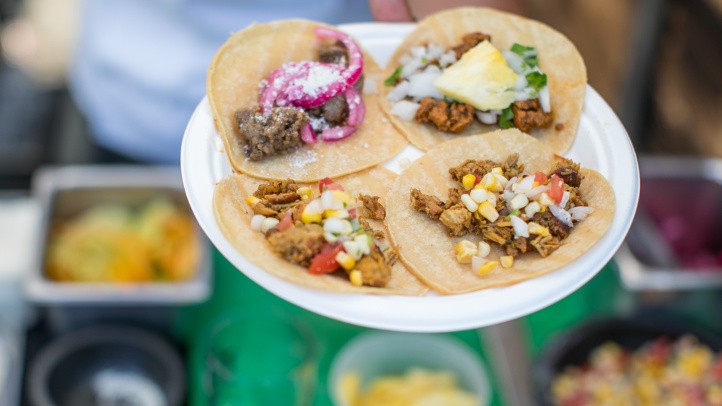 Vegan Taco Tuesday: You know that Boomtown Brewery in DTLA is going to boast a line-up of lovely and well-made brews, but there are festive, foodie events, too, like the one adding plant-based magic to Tuesday, Dec. 4. Pay twenty bucks and enjoy all of the tacos you'd like to chow down upon for two hours, plus a beer. Taco types? Think wild mushroom with leeks, Soyrizo & potato, Sriracha cauliflower, and more. There's a wristband, and everything gets taco-tastic, beginning at 4.
SoulPancake Live: So many of us, come the close of the year, look for ways to ponder the big questions, and the not-so-big-ish questions, in a deeper and yet lighter way. Here's one route: Take a seat for this LAFD Foundation fundraiser, at The Los Angeles Theatre Center, and hear a host of thinkers, artists, and entertainers delivering a delightful "... evening of comedy, music, and spoken word. Terry Crews and Rainn Wilson are both on the line-up; check out the whole Dec. 4 roster now.
Bounce Back Thousand Oaks: Eager to support an event that helps out "... the Ventura County Community Foundation for victims of the shooting and fires"? Visit DojoBoom on Friday, Dec. 7 for a Celebrity Dodgeball Tournament. Entry is free, but donations will be collected. Slated to play? Look for AJ Mclean of The Backstreet Boys, comedian Christopher Titus, athletes, local officials, and several more players representing a number of fields. Ready to raise some money for the region? Start here.
The Scene
What to do, where to go and what to see
Free Holiday Films: So you were tickled by the Halloween-themed nights at CGV Cinemas in Buena Park? Then you know this is a movie theater that likes to do it up when holidays roll around. And do it up, the theater shall, via its new "Free Screenings of Holiday Classics" event, part of its CGV Presents Series. Sign up for the CGV membership and enjoy several pay-nothing films during December. The first one? It's up on Wednesday, Dec. 5: "Love, Actually." "Home Alone" follows on Dec. 12, "Die Hard" on Dec. 19, and "Sleepless in Seattle" on Jan. 9.
Dream Hollywood Film Time: More seasonal cinematic treats will roll in the lobby of this elegant inn, with "The Holiday" leading it all off on Wednesday, Dec. 5. "Elf" is up on Dec. 7, and a number of peppermint-scented movies will follow. The lobby itself? It will be wearing yuletide chic, with wreaths and a sparkly tree adding to the visual. And adding to the yum factor of the evenings? Hot cocoa and cookies. The final night is Dec. 21, and you'll want to reserve your headphones by emailing guestserviceshw@dreamhotels.com.
Copyright FREEL - NBC Local Media