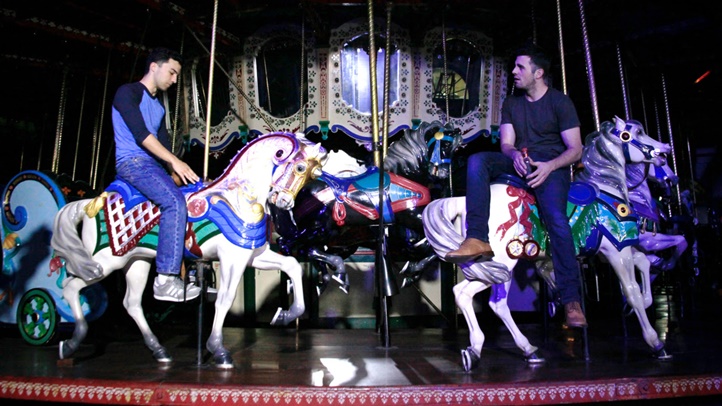 What to Know
Friday, Feb. 9 through Saturday, March 10
Fridays and Saturdays at Santa Monica Pier
$30
Southern Californians are no strangers to semi-surreal site-specific theatrics, those plays and one-acts and dramatic performances that pop up in the strangest and unlikeliest of locations.
There was, of course, the vivacious, up-on-the-washers dance show in the laundromat a few years back, and the show in the empty hospital, and the one at the car wash (all courtesy of the Heidi Duckler Dance Theatre).
And Wicked Lit? You may have seen the company's spooky dramatics at the Mountain View cemetery in the fall.
The Scene
What to do, where to go and what to see
But employing a carousel as the place for the dramatic action? Even here in this creative, sky's-the-limit region, that's a truly stand-out stage.
And that's just the horsey stage that a new play called "An Illegal Start" will use beginning on Friday, Feb. 9.
Our city is home to a few major carousels, but if you guessed that the historic merry-go-round inside the Looff Hippodrome at the Santa Monica Pier is involved, given its beauty and cinematic history, you're correct.
"An Illegal Start" is about a long-term friendship, a story told over 18 years, one that involves characters traveling "... two starkly different life paths." As the merry-go-round goes around and around, new scenes begin, creating real movement and a sense of time passing.
The play is set for each Friday and Saturday through Friday, March 10, and a ticket is $30. Paul Sand, a Tony-garnering actor, is at the helm as director, Santa Monica Pier Deputy Director James Harris is the scribe, and Irish Giron and Cameron Tagge are the friends.
Santa Monica Pier and Santa Monica Public Theatre are behind the offbeat event, one that further burnishes the merry-go-round's decades-old relationship with the arts. It was seen in 1973's "The Sting," of course, and a host of other well-known films.
And it can add a theatrical role to its resumé, too, while lovers of site-specific plays around SoCal can add "seeing a story told on a carousel" to their bucket lists.
Thinking about theater in fresh ways sometimes involves going not to a traditional venue filled with rows of seats, but rather a recreational building where colorful carousel horses are on the move.
Copyright FREEL - NBC Local Media